Cheap Barrel Racing Saddles For Serious Barrel Racers On A Budget
The barrel saddles below are for sale on HorseSaddleShop.com. The new saddles have a price between $500.00 and $800.00; the used saddles are sometimes higher.
The saddles are mostly new, but some may be used.
Smart shopping allows you to control what you spend and stay within your budget.
Shipping charges are almost always free, but double-check to be sure.
A cheap barrel racing saddle does not mean it has to be poorly made. If you shop wisely and patiently you can often find what you are looking for in good quality at a low price.
Other great places to find cheap barrel racing saddles are:
Cheap barrel saddles on eBay - These saddles are new and used, and are $800.00 or less. The dollar amount shown could be the "Buy It Now" price or the current bid. If it's the current bid, the winning bid could be higher. Price may, or may not, include shipping so be sure to find out shipping charges, if any.
Buying A Barrel Racing Saddle From HorseSaddleShop
About saddles and other items from HorseSaddleShop.com:
Shipping Fees

: All orders over $150.00 ship FREE in the continental US!

Shipping Speed:

Saddles and other items are almost always in stock and ship

fast!

Current Prices / Availability:

After clicking on the link to each item below, prices and shipping availability will be clearly shown.

Options:

There are usually more options available for each saddle than may be shown below. For example, there might be options for seat sizes, tree sizes, finishes, etc. Please click on the link to each saddle to see available options when ordering.

Checkout:

There is no need to register at HorseSaddleShop.com to make a purchase. After putting the item(s) you want in your shopping cart you simply proceed to checkout and fill in a simple, one-page order form.
Barrel Racing
Barrel racing is a competitive event in which a horse and rider run a cloverleaf pattern around three barrels. It is a timed event in which the fastest time wins. Though most recognized as a sport more commonly competed in by women than men, depending on what (if any) governing body sanctions a barrel race the rider may be either male or female.
In barrel racing, the rider has the choice of turning either the right or left barrel first. It is most common to take the right barrel first because most horses are naturally more athletic when working to their left. By taking the right barrel first the horse will have one right-hand turn (the first barrel), and two left-hand turns (the second and third barrels).
Below: This illustration shows shows the barrel racing pattern with the right barrel being turned first.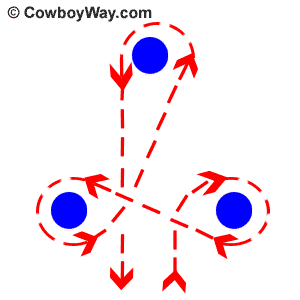 Penalties
In barrel racing, there can be penalties. For example, if a barrel racer knocks over a barrel a five second penalty is usually assessed. If a barrel racer "breaks the pattern" (which means they don't run around all three barrels in the manner described by the rules), or if they cross back across the start/finish line before the pattern is complete, they will receive a no time.
Saddles From HorseSaddleShop
Saddles By Type

A Fork

Barrel Racing

Cordura

Cutting

Draft

Endurance

Flex Tree

Full Quarter Horse Bars

Haflinger

Pony

Ranch

Roping

Trail

Team Penning

Used and Clearance

Wade

Youth

---

Saddles By Maker

Alamo

Billy Cook

Circle Y

Crates

Dakota

Fabtron

High Horse

Other Good Stuff From HorseSaddleShop

---




New To Horse Saddle Shop?

Read our super-short intro on how to buy from their website. Hint: It's really easy - you don't even need to register!
Link To This Page
If you found this page useful or interesing and would like to link to it from your own website or blog, you can use the small code snippet below to make a link. Thanks!
Use ctrl+C in Windows or command+C on a Mac to copy the link.
<a href=""></a>
---
Below: Like and share this page on Facebook!