Court's Saddles, New and Used
Court's Saddlery, based in Bryan, TX, has been a family owned business since 1956. Making their first saddle in 1967, Court's Saddlery quickly rose to be recognized as one of the finest saddle makers in the country, constantly striving to make quality saddles and tack at competitive prices.
---
---
Below: A Court's saddle earning its living as a ranch/roping saddle.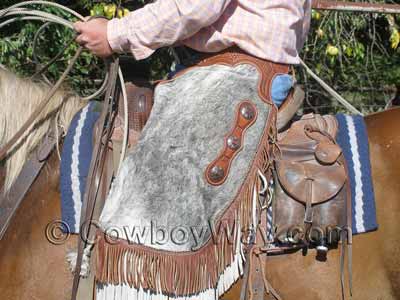 Over the years Court's has made trophy saddles for such organizations as the National Finals Rodeo, the National High School Rodeo Association, the Houston Livestock Show and Rodeo, Cheyenne Frontier Days, Miss Rodeo America, and too many more to list here. They have made the the Miss Rodeo America saddle for over 25 years. Also for over 25 years, they have made barrel racing saddles endorsed by Sharon Camarillo (four time National Finals Rodeo qualifier and Women's Professional Rodeo Champion) and roping saddles endorsed by Dee Pickett (National Finals Rodeo qualifier 17 times, winning the all-around title in 1984, and inducted into the ProRodeo Hall of Fame in 2003).
PLEASE NOTE: If there aren't many Court's saddles, other brands of saddles may also appear in the list below.
Court's Saddles, New and Used, On eBay!
Please note that shipping costs for the saddles may or may not be included in the prices shown. Always make sure to find out if shipping is included or extra.
See more Court's saddles on eBay
---
---
---
Link To This Page
If you found this page useful or interesting and would like to link to it from your own website or blog, you can use the small code snippet below to make a link. Thanks!
Use ctrl+C in Windows or command+C on a Mac to copy the link.
<a href=""></a>
---
Below: Like and share this page on Facebook!