Cowboy Bedding For Sale
Below you will find cowboy bedding of every kind for sale on Etsy. You will find all kinds of bedding from bedding sets to individual pieces like blankets and pillow cases. Some of the bedding is ready to ship while other items can be customized and therefore will take longer to ship.
---
Here are a few Etsy sellers we have found offering cowboy bedding:
CraftyMomofTwins
Example bedding item shown below
---
OhSewCutiePie
Example bedding item shown below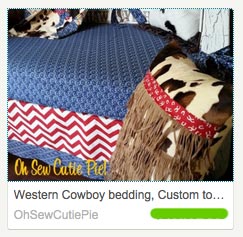 ---
---
Cowboy Bedding Savvy
Bedding terms can be confusing. Below are some common products and their definitions.
Bed Skirt / Dust Ruffle- A bed skirt in another name for a dust ruffle. A bed skirt or dust ruffle is a decorative piece of cloth placed underneath a mattress that hangs down to the floor. It serves a practical purpose of keeping dust from collecting underneath a bed, but it is used largely for decorative purposes. Bed skirts and dust ruffles are designed to coordinate with the comforter (also sometimes called a "duvet"), shams, and/or pillowcases. Bed skirts and dust ruffles commonly attach to a bed by elastic, Velcro, or other methods. Bed skirts and dust ruffles frequently match or coordinate with duvet covers (see below) or shams (also see below). In cowboy bedding, these items frequently have a cowboy or Western design.
Duvet - A duvet (pronounced "due-vay") is another name for a bed comforter.
Duvet Cover - A duvet cover is just what is sounds like: A cover for a duvet. Using a duvet cover makes it fast and easy to change the look of your bedding. In addition, it is easier to wash a duvet cover than a duvet. When shopping for a duvet cover it is best to purchase the size you need according to the actual inch measurements of the duvet cover rather than going be generic size labels.
Jacquard - A jacquard fabric (named for its inventor Joseph Jacquard) is made by weaving differently colored threads to form a pattern.
Sham - A sham is a decorative covering for a pillow on a bed. They are removable, often coordinate with the bed covering, and are usually larger than the pillowcases.
Suede - Suede is leather that has had the surface specially manufactured to create a nap instead of a smooth finish. In cowboy bedding, suede accents are not uncommon. If considering the purchase of cowboy bedding with suede, read the description carefully as the items(s) with suede are likely to be dry clean only.