Hack Rein - Defined
Hack Rein - A hack rein is a long, thick rein used by certain types of competitive bronc riders. The hack rein is attached to the bronc's halter, and the bronc rider holds on to it during the ride. Saddle bronc riders and ranch bronc riders use a hack rein in competition, but bareback bronc riders do not.
Below: A rider competing in ranch bronc riding uses a hack rein.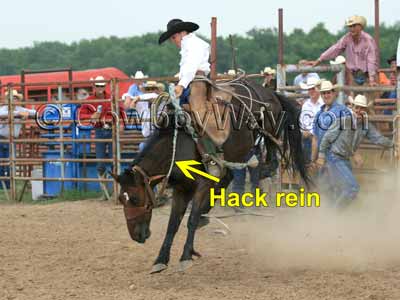 To learn more about the differences between saddle bronc riding and bareback bronc riding, please see this page: Saddle Bronc Riding Vs. Bareback Bronc Riding (the article is beneath the photos).
To learn about another competitive bronc riding event that uses a hack rein, please see this page: About Ranch Bronc Riding (the article is beneath the photos).
CowboyWay Dictionary
Some definitions have their own page, while other definitions are included under the letter of the alphabet they begin with.
Link To This Page
If you found this page useful or interesting and would like to link to it from your own website or blog, you can use the small code snippet below to make a link. Thanks!
Use ctrl+C in Windows or command+C on a Mac to copy the link.
<a href=""></a>
---
Below: Like and share this page on Facebook!