Cowboy Dictionary - Letter U
Back to the cowboy dictionary first page.
Please click on a letter below to search for for the definition of words,
terms, slang, and jargon used by cowboys, cowgirls, and horse lovers.
Ungulate - A mammal with hooves. Horses are odd-toed ungulates and cattle are even-toed ungulates.
Below: A horse hoof. A horse has one solid (not split) hoof at the bottom of each leg. Since one is an odd number, a horse is an odd-toed ungulate.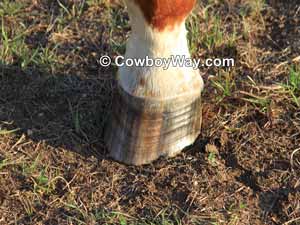 Below: Calf hooves. Cattle have a hoof that is split into two toes at the bottom of each leg. Since two is an even number, cattle are even-toed ungulates.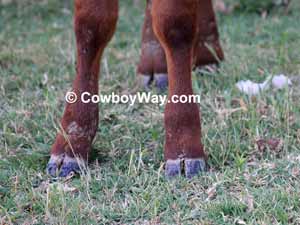 CowboyWay Dictionary
Some definitions have their own page, while other definitions are included under the letter of the alphabet they begin with.
Link To This Page
If you found this page useful or interesting and would like to link to it from your own website or blog, you can use the small code snippet below to make a link. Thanks!
Use ctrl+C in Windows or command+C on a Mac to copy the link.
<a href=""></a>
---
Below: Like and share this page on Facebook!