New and Used Draft Horse Saddles
Draft horse saddles are built to accommodate the wider, thicker, conformation typical of a draft horse. Below are new and used draft horse saddles for sale.
---
---
Saddles for draft horses come in a variety of types (English, Western, etc.) and styles (trail horse saddles, dressage saddles, and more). Please scroll down a little lower on this page for a checklist of good things to know before buying a draft horse saddle.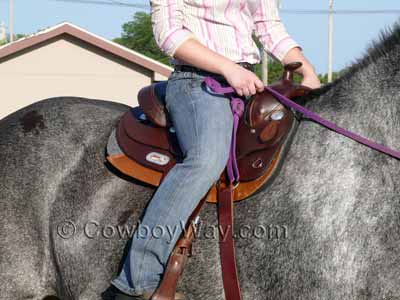 ---
From eBay
See more draft horse saddles on eBay
---
Draft Horse Saddles - Good Things To Know Before You Buy
Is the draft horse saddle new or used?
Is the saddle really a draft horse saddle? A draft horse saddle is usually distinguished from other saddles by it's saddle tree: A wide gullet (usually 8 inches wide or wider), and bars that are at a flatter angle than that of other saddles. Does the seller tell you how wide the gullet is? Does the seller describe the saddle as being built on a tree designed for a draft horse?
If the saddle is used, how used is it? Does the seller clearly state that the saddle is barely used, heavily used, etc., and supply enough pictures to back up their description?
Are there several clear pictures of the draft horse saddle? If the seller describes any damage to the saddle (scuffs, tears, etc.) are these shown in the photographs?
If the seller claims the saddle is a certain brand or make, do the photos show a stamp or other mark on the saddle to back up their claim?
Does the seller clearly state that the saddle comes with or without cinches, stirrups, latigos, billets, a breast collar, etc.? It would not be unusual for a new or used saddle to come with or without any of these items, so you should know exactly what you are, and are not, getting.
What will the shipping charges be? Remember, a saddle can be heavy to ship. Make sure you know what the shipping charges are before you buy the saddle.
Will the seller ship to your area? How soon will the saddle be shipped after you pay for it?
What payment methods does the seller accept? How soon after the sale do you have to pay for your purchase? An increasing number of eBay sellers are getting tired of buyers who take a long time to pay for their item. Some of these sellers are now requiring the item be paid for within a certain time frame or the sale is off. Read the item's description for acceptable payment times and terms.
Can the saddle be returned to the seller? Don't assume the seller will accept returns - while many do, some do not. Read the description carefully to know if the seller will accept returns, and, if so, what conditions apply, and what charges you're likely to incur if you do return the saddle (shipping fees, restocking fees, etc.).
Every eBay item for sale has a "Seller info" area. Be sure to check this area to view the feedback that previous buyers have left for that particular seller.
If you have any questions on a draft saddle be sure to ask the seller before you bid. Look for the "Ask a question" link in the "Questions and answers about this item" area of the eBay listing to ask your questions.
---
Draft Saddle Gullets
Draft horse saddles usually have a wider gullet than other saddles. For example, many draft saddles have a gullet that is eight inches wide or wider. In addition, the bars of a draft horse saddle often have a flatter angle. Both of these features accommodate the wider, thicker, conformation typical of a draft horse.
NOTE: Accurately measuring gullet width can only be done on a raw saddle tree. You can measure the gullet of a finished saddle, like the one shown below, but it will be a different (smaller) measurement than on the raw saddle tree.
Below: The blue line is illustrating the width of this saddle's gullet.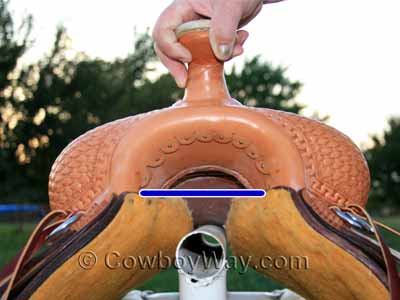 ---
Pin it now!
---
---