Custom Horse Ear Bonnets For Sale
Below are horse ear bonnets for sale on Etsy.com. Some of the bonnets are already completed and ready to ship, but many of them are custom made and therefore will not be created for you until you place your order. Please scroll down for good things to know before buying horse ear bonnets on Etsy.
Below: A custom, monogrammed ear bonnet on horse.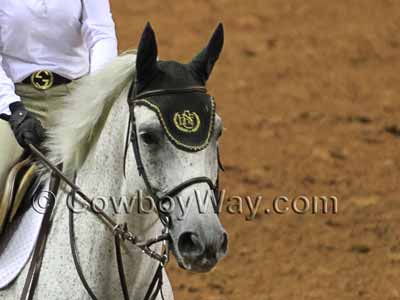 ---
Below is a random selection of Etsy sellers we have found offering custom ear bonnets. Or, click here to see all the horse ear bonnets on Etsy (these include both custom bonnets that won't be made until you place your order, and bonnets that are already made and ready to ship). There is usually an excellent selection to choose from.
Remember, most of the ear bonnets shown below were made in the past for someone else so the exact item shown will not be available. However, the photo still serves as a good example as to what that Esty seller can create.
---
According to their Etsy profile, the Creative Seahorse Etsy shop has something for every horse and rider including colorful bonnets, elegant browbands, custom bonnets, and final touches for the show ring. They create bonnets for all sizes from minis to drafts to mules, and also offer embroidery personalization. They are located in Stevensville, Maryland. Click here to visit the Creative Seahorse Etsy shop.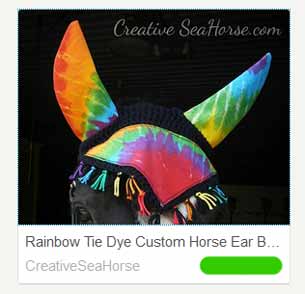 ---
The Windmill Bonnets Etsy shop creates custom horse ear bonnets according to your choices. They can include rhinestones or pearls on your bonnet if you like. They are made in, and ship worldwide from, Ottawa, Canada. They offer a wide selectin of colors and trim colors and other options. Click here to visit the Windmill Bonnets Etsy shop.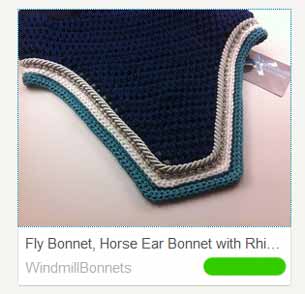 ---
TheHoundstoothHorse, located in Ferndale, Michigan, makes customized ear bonnets as well as a wide variety of other custom items for horses. They offer a nice selection to choose from, and also offer monogramming. Click here to visit the TheHoundstoothHorse Etsy shop.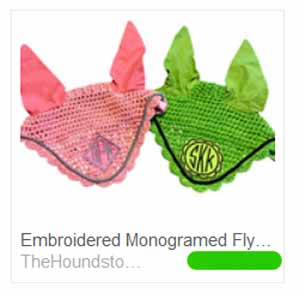 ---
The EarMeNow Etsy shop, located in Hayden, Alabama, makes customized ear bonnets for horses. The one shown below is a draft/warmblood size, but they also make horse, pony, and mini sizes. They offer a nice selection to choose from. Click here to visit the EarMeNow Etsy shop.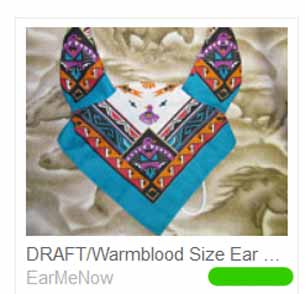 ---
This horse bonnet by MaysTreasureBox, located in Chicopee, Massachusetts, is made from a bandana and crocheted yarn with a simple shoelace tie. Click here to visit the MaysTreasureBox Etsy shop.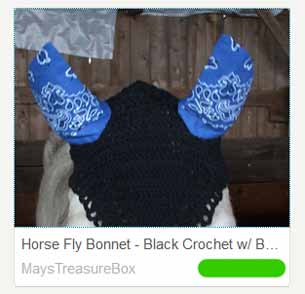 ---
---
What Are Horse Ear Bonnets?
Horse ear bonnets have become popular for both practical and fashion purposes. On the practical side they offer the ears protection from biting insects such as flies and gnats, helping to reduce head shaking and to contribute to quieter, more relaxed, and more focused rides both in the show ring and on the trail. This can be useful for any horse, and may be particluarly helpful for horses that have had their ears clipped. Some, but not all, ear bonnets are also made to help muffle and reduce noise, which can also contribute to quieter rides.
In addition, some owners of light-colored horses like to use ear bonnets beneath their bridle to help prevent stains from the headstall from rubbing onto their horse.
As a fashion accessory they are hard to beat. They can look great in colors that match the rest of the horse's tack, tying everything together for an overall, professional look; or they can be a bit wild and crazy just for fun.
Note: If you plan on using an ear bonnet during competition make sure they are allowed by the rules of your particular competition.
Below: A navy blue ear bonnet on a jumper.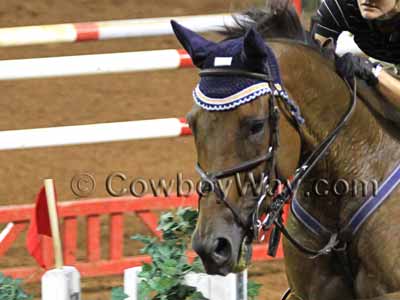 ---
Tips For Buying Custom Ear Bonnets For Sale On Etsy
The best tip we know of for a smooth Etsy transaction for you and the seller is simple: Communicate! Begin by reading the product's description to find out such information as:
What is the bonnet made of? Is it made of the same thing throughout, or were different materials used for different areas?
Can it be washed, either by hand or in a washing machine?
How big is it? Does the seller give sizes (mine, pony, cob, horse, warmblood, draft, or whatever)? Or, does the seller give specific measurements?
What shape is the horse ear bonnet? They commonly come in shapes described something like "V" shaped or "U" shaped. If the seller doesn't say, be sure to look at the photos and/or ask about the shape before you buy.
Does the ear bonnet help muffle noise? Some do, but many do not. If you're not sure, and it's important to you, ask the seller before you buy.
How long will it take to make your custom bonnet after you order it?
Where will the horse bonnet ship from? What will the shipping charges be?
Last but not least, if you have any questions about a custom horse ear bonnet be sure to ask the seller before you buy! Look for the "Ask a Question" button on the right-hand side of an item's description, to the right of the photo(s).
Link To This Page
If you found this page useful or interesing and would like to link to it from your own website or blog, you can use the small code snippet below to make a link. Thanks!
Use ctrl+C in Windows or command+C on a Mac to copy the link.
<a href=""></a>
---
Below: Like and share this page on Facebook!