Photo Of The Day
Welcome to CowboyWay's Photo Of The Day! Below is today's photo. For more information about our photos of the day, please scroll down.
---
Today is day number 203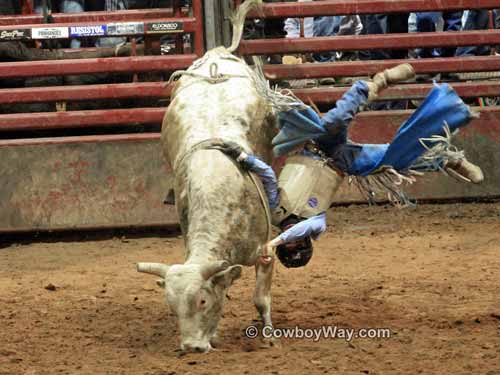 Note! If you are seeing the same photo you've already seen within the last 24 hours, please "hard refresh" the page:
On a PC: Ctrl + Shift + R
On a Mac: Cmd + Shift + R
---
About Our Photos Of The Day
Here at CowboyWay.com we take a lot of photos. Creating this "Photo Of The Day" page is just one way we have of showing them.
Our "photo of the day" photos are chosen completely at random. Many of the photos already appear somewhere on the CowboyWay.com website, but others are showing here for the first time. Some of them are recent, some are older.
The photos are of all kinds of different subjects from rodeos to ranch rodeos to show jumping, horses, cattle, and more. They're shown in an entirely random order.
While we have personally taken most of the "photo of the day" photos, a few of them are from the public domain that we liked and hoped you might find interesting.
As you may have noticed photos displayed as a "photo of the day" are put up without any text, description, or other information. It takes a long time just to find 365 photos, let alone add any information to them. If we took the time to write descriptions, the entire project would take so long that we probably wouldn't do it at all.
We hope you enjoy our photo of the day!
---
Photo Gallery
The Photo Gallery is a collection of photos from various events.
Photo Pages
The Photo Pages are a collection of individual photos. Each page has fewer pages than a "Photo Gallery" page, and sometimes a description about the photos.
Bareback
Bareback - Black and White
Bronc Riding - Wrecks
Bull Riding
Bull Riding - Black and White
Bull Riding - Wrecks
Cows
Cowboy
Cowgirl
Draft Horses
Horses
Paint Horses
Ranch Bronc Riding
Ranch Rodeo - Junior
Ranch Rodeo
Saddle Bronc
Wild Cow Milking
Link To This Page
If you found this page useful or interesting and would like to link to it from your own website or blog, you can use the small code snippet below to make a link. Thanks!
Use ctrl+C in Windows or command+C on a Mac to copy the link.
<a href=""></a>
---
Below: Like and share this page on Facebook!