Used English Saddles For Sale
Below are used English saddles, for a variety of disciplines, for sale on eBay right now. There is usually an excellent selection including saddles for dressage, show jumping, hunt seat, eventing, and more.
Below: A rider in an English saddle.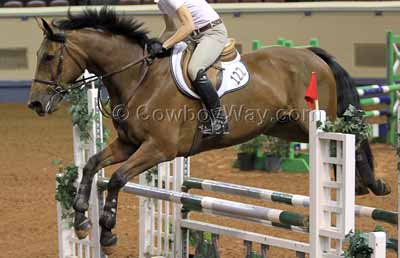 ---
From eBay
See more used English saddles on eBay
---
Buying A Used English Saddle On eBay: Good Things To Know
How old is the used saddle?
Just how used is the English saddle? Does the seller clearly state that the saddle is barely used, heavily used, etc.?
Are there several clear pictures of the saddle? In most cases you will want photos of the saddle from all angles, including underneath. If there are not enough photos to let you see the saddle as well as you would like, email the seller before you bid or buy and ask for additional photos.
What size is the seat of the saddle? What are the flap and gullet measurements?
If the seller claims the saddle is a certain brand or make, do they give model and serial numbers, and/or show an identifying stamp or plate on the saddle to back up their claim?
Does the saddle come with or without fittings girth, stirrups, stirrup leathers, etc.)? It would not be unusual for a used saddle to sell without these items, so you should know exactly what you are, and are not, getting.

If the saddle does come with any fittings, are they also clearly described and shown in the photos?

Does the saddle have any defects? It is reasonable to assume that a used English saddle may have defects of some kind. The seller should clearly describe any scratches, scuffs, tears, stains, etc., and show them in the pictures if possible.
What will the shipping charges be?
Every eBay item for sale has a "Seller info" area. Be sure to check this area to view the feedback rating that previous buyers have left for that particular seller. There is also an area where a potential buyer can read comments left by previous buyers.
If you have

any

questions on a used Western saddle be sure to ask the seller

before

you bid. Look for the "Ask a question" link in the "Questions and answers about this item" area to ask your questions.
---
New To eBay?
If you have never bought anything on eBay before you will need to register with them.
Registering at eBay is FREE.
About eBay's Feedback System
eBay is famous for its highly successful feedback system. Each item for sale on eBay shows how many transactions (buying and selling) a particular seller has had on eBay, and the seller's feedback information. Below is a description of the "Seller info" area on eBay:
Please note that the actual information on eBay may look different than the representation shown below.

1 - This number shows how many transactions the seller has had on eBay.
Since a seller on eBay can also be a buyer on eBay, this number includes transactions for both buying and selling.
Click this number to see the seller's feedback information.

Tip

: When buying something on eBay it's a good idea to read the seller's feedback information. Make sure any seller you do business with has a lot of positive comments left for them as a seller, not just as a buyer.
2 - This is the seller's feedback rating. Feedback is left by other people on eBay who have purchased something from, or sold something to, this seller. The higher the number, the more positive the feedback rating is. The highest possible feedback rating is 100%.