Used Roping Saddles
Below are used roping saddles for sale.
---
---
The selection of saddles in all price ranges is usually very good. For good information to know before buying a used roping saddle please scroll down beneath the saddles for sale. eBay and other sellers often refer to used items, including saddles, as pre-owned.
Below: A well used ranch / roping saddle.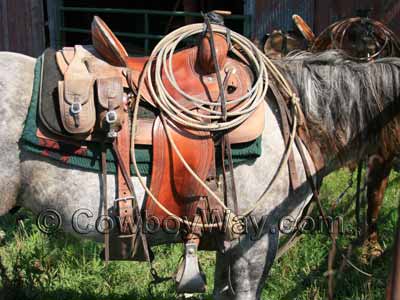 ---
See more used roping saddles on eBay
---
Used Roping Saddles On eBay: Good Things To Know Before You Buy
Below are a few good things to know before buying a used roping saddle on eBay or anywhere else.
First off, is it actually a roping saddle? Most of the so-called roping saddles we've seen for sale on eBay have actually been roping saddles, but occasionally a seller who isn't familiar with horse tack will describe some other type of saddle as a roping saddle. Or, sometimes, a seller will describe a saddle as something like: "Ranch, roping, trail, cutting, show saddle." Don't get confused and trust a seller's description if your own knowledge tells you something different.
What type of roping saddle is it? The phrase "roping saddle" is pretty broad and can describe a variety of saddles. Check the photos and description carefully to make sure it's the type of roping saddle you're looking for.
If the seller claims the saddle is a certain brand, do they offer a photo of a maker's mark? A "maker's mark" is an identifying stamp or logo on a saddle used by the maker to identify their goods. Many, but not all saddles have a maker's mark. The mark is commonly located on the latigo keeper, stirrup hobble, and/or stirrup fender, but it can be located anywhere.
Not all maker's use a mark. In addition, even if a saddle has one, it is not proof-positive of who made the saddle because the mark is often located on a part of the saddle that can be replaced without too much trouble. This frequently happens for honest reasons (for example, a latigo keeper gets torn, a stirrup hobble gets lost, or stirrup fenders are replaced for shorter or longer ones), but it might also happen for dishonest reasons. If a seller claims a certain saddle is certain brand, a maker's mark can help to backup that claim, but isn't always proof.
Below: A maker's mark on the latigo keeper of a saddle.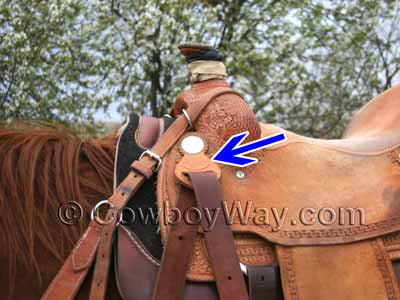 Below: A maker's mark on the stirrup hobble (green arrow) and stirrup fender (yellow arrow) of a saddle. This particular saddle is also stamped on the latigo keeper, too, but you can't see it in the photo.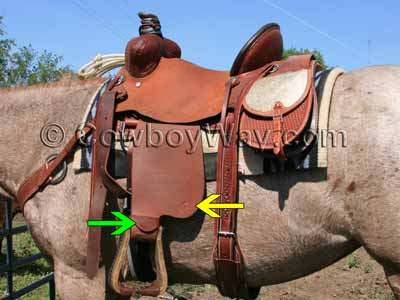 Is shipping included in the price or is it extra? If it's extra, how much will it be?
Does the seller accept returns? On used items it's common for returns to not be accepted, but you never know so be sure to check. If the seller will accept the return of a used roping saddle, will there be a re-stocking fee? (Many eBay sellers that are businesses might require a restocking fee, but this isn't as common with sellers that are individuals.) If returns are accepted, who pays for the return shipping, you or the seller? (Hint: It's probably you.)
---
About Used Trophy Roping Saddles
A trophy saddle is a saddle that was awarded to someone as a prize, typically for winning a competitive event. It's not uncommon to find both never-been-used and used trophy saddles for sale on eBay or other places. (We're saying "never-been-used" here instead of "new" because technically a trophy saddle isn't new if someone has already owned it.) Whoever won the saddle might not need it or they might already have one they already like, so they offer their trophy saddle for sale.
A used trophy saddle often has lettering tooled on it, which may or may not bother you if it's the type of saddle you've been looking for and the price is right. If the lettering isn't something you care for, and it's only on the stirrup fenders, you can buy other stirrup fenders to replace them. And if you feel odd about riding around in a trophy saddle you didn't win yourself, you probably shouldn't: Lots of people buy used trophy saddles and it's not unusual for someone other than the original winner to own and ride them.
Below: A used trophy roping saddle with lettering on the seat jockey, skirt, and stirrup fenders.
---
Roping Saddle Riggings
On a roping saddle, rigging positions are commonly full or 7/8. Here is a quick description of what those positions mean.
Full Rigging: The front cinch position is the full distance from the cantle to the pommel. This puts the front cinch directly beneath the pommel of the saddle. See the blue line in the photo below.
7/8 Rigging: The front cinch position is 7/8 of the distance from the cantle to the pommel. This puts the front cinch a little farther back than a full rigged saddle. See the red line in the photo below.
Below: A roping saddle illustrating common saddle rigging positions.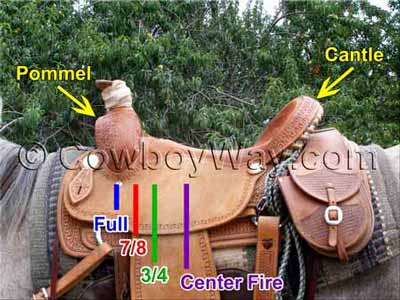 Saddles that are full or 7/8 rigged are used for roping because the rigging positions (as well as other design elements of the saddle) are designed to handle the force and stress of roping, both on the saddle and on the horse. However, since the front cinch on a roping saddle is fairly far forward roping saddles also have a a second cinch called a "back cinch" (sometimes also called a "flank cinch") toward the back of the saddle. A properly fitting and adjusted back cinch prevents the back of the saddle from rising up when roping or riding in rough country. A saddle with a front and back cinch is often called a double-rigged saddle.
A Note About 3/4 And Center Fire Rigged Saddles: You might have noticed in the image above that there are two more saddle rigging positions we haven't mentioned yet: The 3/4 and the center fire. While both of these rigging positions were once common, they are uncommon in most modern Western saddles.