A barrel racing saddle is a type of Western saddle designed to help a rider stay secure during the sudden, fast starts and deep, hard turns associated with the demanding sport of barrel racing. Below is an excellent of barrel racing saddles for sale from a variety of sellers.
Below: A barrel saddle from HorseSaddleShop.
HorseSaddleShop.com image. Used with permission.
---
From eBay and Amazon
eBay often has the largest selection of barrel saddles on the Web.
The saddles are both new and used.
Shipping may or may not be included in the price – read the description to find out is shipping is extra.
See more barrel racing saddles on eBay
See more barrel racing saddles on HorseSaddeShop
---
Looking For A Specific Brand Of Barrel Saddle?
---
About Barrel Racing Saddles
Barrel racing saddles usually have prominent pommels (aka "swells"), high cantles, deep seats, and tall, upright saddle horns to allow a rider to hold them during deep, tight turns. The stirrup fenders of barrel racing saddles are typically made to swing freely so the rider can constantly adjust their position to keep their legs underneath them. Barrel saddles are also lighter in weight compared to some other Western saddles, but are still built to withstand the extreme demands of barrel racing.
Below: A close shot of a barrel racer and her saddle.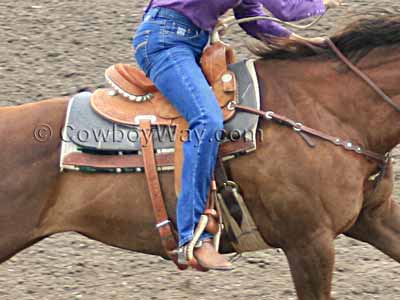 About Barrel Racing Saddle Riggings
Most barrel racing saddles are either "full-rigged" or "7/8 rigged" which means the front cinch is directly below, or almost directly below, the pommel of the saddle. By contrast, saddles made and used in the generations before the emergence of the working cowboy and modern rodeo contestant usually had riggings that were 3/4 or center-fire rigged, which placed the front cinch more toward the center of the horse's belly. Compared to earlier styles of riggings, the full-rigged or 7/8 rigged saddle allows for a more secure fit to the horse during the fast, powerful turns found in barrel racing.
Below: A double-rigged barrel racing saddle.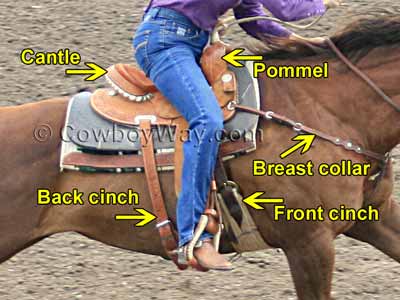 Since the front cinch on a barrel racing saddle is fairly far forward, most barrel racers also prefer to have a second cinch, called a "back cinch" toward the back of the saddle. A back cinch prevents the back of the saddle from rising up during hard or fast riding. A saddle with a front and back cinch is often called a "double-rigged" saddle.
Most barrel racers also use a breast collar. A breast collar's primary job is to keep the saddle from sliding too far back, but it can also help to keep the saddle from tipping side-to-side.
Barrel Racing
Barrel racing is a competitive event in which a horse and rider run a cloverleaf pattern around three barrels. It is a timed event in which the fastest time wins. Though most recognized as a sport competed in by women, depending on what (if any) governing body sanctions a barrel race the rider may be either male or female.
Below: A barrel racer turns the third barrel.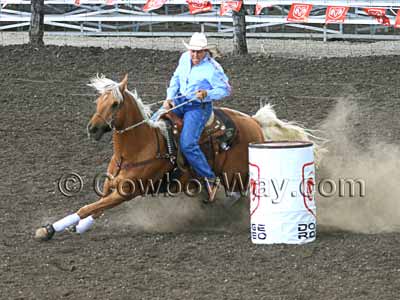 In barrel racing, the rider has the choice of turning either the right or left barrel first. It is most common to take the right barrel first because most horses are naturally more athletic when working to their left. By taking the right barrel first the horse will have one right-hand turn (the first barrel), and two left-hand turns (the second and third barrels).
This illustration below shows shows the barrel racing pattern with the right barrel being turned first.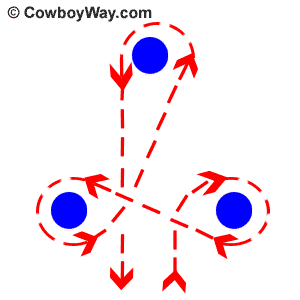 Penalties
In barrel racing, there can be penalties. For example, if a barrel racer knocks over a barrel a five second penalty might be added to the time, or the run might receive a no time. If a barrel racer breaks the pattern (which means they don't run around all three barrels in the manner described by the rules), or if they cross back across the start/finish line before the pattern is complete, they will also receive a no time.
This barrel racer has just knocked down the first barrel.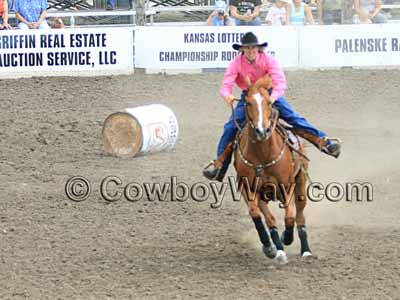 You might also like: