Dakota ranch saddles, like their other saddles and tack, are known for high quality at reasonable prices. Dakota Saddlery uses excellent materials in their saddle making, including leather from the USA. They are located in Idler, Alabama.
Below: A Dakota ranch saddle from HorseSaddleShop. This one is the Dakota Hard Seat Ranch A-Fork Saddle with 7/8 rigging and a 5″ cantle.
HorseSaddleShop.com image. Used with permission.
Comparison Shop For Dakota Ranch Saddles
Below are Dakota barrel saddles for sale from HorseSaddleShop.com (aka eSaddles) and eBay.
---
From HorseSaddleShop
HorseSaddleShop is one of the largest saddle dealers in the country. Almost every
saddle they carry is in stock and ships the same day.
Most of the saddles shown are new, but some might be used.
Shipping is almost always included in the price for locations in the continental USA.

Some saddles by HorseSaddleShop are listed twice. Why?

It's because HorseSaddleShop is one business (located in Bremen, Indiana), with two websites (HorseSaddleShop.com and eSaddles.com), and they often show the same saddle on both websites. In case one website would have a better deal on a saddle, saddles from both websites are shown.
See more Dakota ranch saddles on HorseSaddleShop
---
From eBay
The selection of Dakota ranch saddles on eBay is usually fairly small. However, they do often have some so it's still a great place to check when shopping.

See Dakota ranch saddles on eBay

---
About Dakota Saddlery
Dakota Saddlery has been making handcrafted saddles since 1988. They have a reputation for quality and excellent craftsmanship.
Below: A close up photo of a Dakota Saddle's latigo keeper.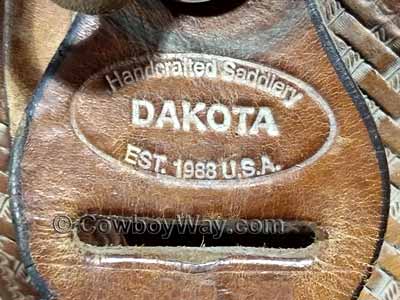 ---
You might also like: