Cowboy Dictionary - Letter E
---
---
Eared Cattle - A cow, bull, etc. that has large and/or thin-hided ears due to the influence of Brahman cattle in their breeding. For example: "He runs cows that have a lot of ear" or "He runs a lot of eared cows."
---
Ear Tag - A tag placed in the ear of livestock to help the owner distinguish it from other animals in the herd.
Ear tags are commonly used in cattle, sheep, and other livestock (with the exception of horses). Ear tags help a herd owner or manager distinguish one animal in the herd from the others, and greatly aid in accurate record keeping.
The exact information that can be found on an ear tag is up to the owner or manager of the livestock, and varies from one ranch or herd to the next. Individual, identifying numbers are commonly found on ear tags, and sometimes the year or date of birth, a herd number, and/or other useful information.
Below: A black cow with a blue ear tag in her left ear.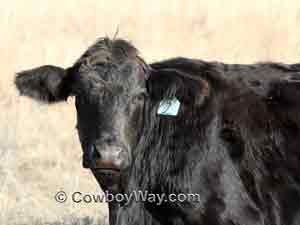 ---
Ergots - Normal, healthy growths found on most horse's legs. No one really knows why they exist, and they have been a subject of curiosity among horsemen for quite a long time.
Ergots are found on the back of the fetlock on all four legs, and are usually covered by hair. When you feel them, they feel a lot like an eraser on the end of a wooden pencil.
For more information about ergots, please see our article What Are Horse Chestnuts and Ergots?
Below: The yellow circles indicate where ergots can be found.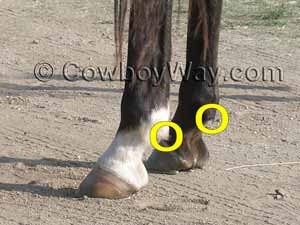 ---
Ermine Marks - Ermine marks are black or dark spots on horses that appear in white markings just above the hoof.
Below: A horse with ermine marks.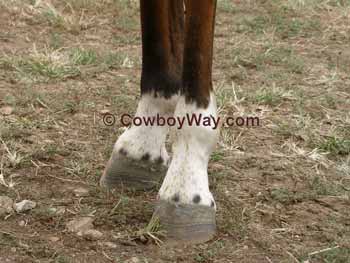 ---
---
---