Cowboy Amazon? Yep.
We were surprised, too.
---
---
"Cowboy Amazon" sounds like a contradiction in terms. And in days past, it was. Amazon first gained its fame as a powerhouse for selling books, DVDs, and electronics.
But over time, Amazon has changed. Among other things:
Amazon now sells merchandise not only from themselves, but, similar to eBay, now also offers items for sale from other big businesses, small business, and individuals.
Famous-name sellers that have their own large, popular websites now sell a huge percentage of their inventory on Amazon, too.
Small businesses and individuals with unique, hard-to-find items also offer their items on Amazon.
As a result the Amazon website now offers merchandise of every kind, including a huge selection of horse and cowboy gear.
---
What This Means For You and Me
When you shop on the Amazon website:
You Can Compare: You can shop many different sellers at one time, all on the same website. This makes it easy to compare products, selection, and prices.
You Only Pay Once: When you make a purchase, even if it includes items from different sellers, you make just one payment to Amazon. Only Amazon will have your payment information, and you only have to enter it once.
There Are Customer Reviews: Almost everything on Amazon has customer reviews. It's an excellent way to see the opinions of others about a product before you spend your own hard-earned money on it.
---
Crash Course
If you're not familiar with shopping on Amazon, here are a few basics to know when looking at an individual product for sale:
The

brand

of the item being sold. This may or may not be the same as the

seller

(see #4).
Overview of customer reviews. The link will take you to details about the customer reviews.
The price. (On this item shipping was free, but this may not be true in all cases.)
The seller. On this item the seller was Amazon.
More sellers. It's common for the same item to be for sale by several different businesses or individuals on Amazon. This is a link that will take you to information about what other sellers are selling this item for.
Below: Screenshot from Amazon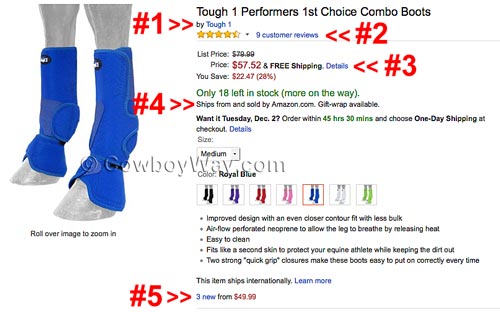 ---
Free Shipping?
Do you get free shipping on the items you purchase on Amazon? The answer is often yes, but not always.
Some items simply have free shipping, period. For an example you can see item #3 in the screenshot above.
Some items may not automatically have free shipping, but they might be eligible for free shipping. In other words, if your overall order reaches a certain amount, free shipping might kick in.
On some items shipping is extra, period. However, the item may still have a very competitive total price (cost + shipping) so it might still be good deal.
Last but not least, if you buy more than one item shipping may be free for some items but not for others.
If it sounds confusing it really isn't. Amazon is very transparent about shipping charges. Simply watch your screen and you'll probably find the information you need to know about shipping charges right in front of you. If you're confused, add the item(s) to your shopping cart where you can see all the final details clearly laid out in front of you (this is a helpful tip on any website you're shopping at). At Amazon it's easy to remove an item from your cart if you don't want it.
---
Amazon Prime
Amazon Prime is a service that offers its members free 2-day shipping as well as several other notable perks (including unlimited streaming of movies and TV episodes and much more). Here is an overview of Amazon Prime on the Amazon website, and here is a link to their free 30-day trial.
Free Shipping
Probably the biggest appeal of Amazon Prime to most shoppers is its free 2-day shipping.
With Amazon Prime individual items are eligible for free 2-day shipping, all on their own, with no minimum order size

. (This applies to addresses in the contiguous USA; i.e., not Alaska or Hawaii.)

Not all items are eligible for free 2-day shipping, but a large percentage of them are.
Without Prime, if your order doesn't reach a certain dollar amount you would have to buy additional items to increase the total value of your purchase in order to get free shipping - and then it would be standard shipping, not 2-day shipping.
While some orders already have free shipping even without Amazon Prime, it's not free

2-day

shipping like you get with Prime. In other words, Prime offers not only free shipping, but it's

faster

free shipping.
Remember, not all items are eligible for Amazon Prime's free shipping but a large percentage of them are.
Other Amazon Prime Features
There are numerous other features included with Amazon Prime in addition to free 2-day shipping including unlimited streaming of movies and TV episodes, unlimited, ad-free access to hundreds of Prime Playlists and more than a million songs, secure unlimited photo storage in Amazon Cloud Drive, and much more. You can click here to see all of Prime's features on the Amazon website.
Amazon Prime Membership Fee
An Amazon Prime membership requires an annual fee. If you order from Amazon frequently you can save money, maybe a lot of money depending on how often your order, even with the annual free. If you order from Amazon infrequently, Prime is probably not a good deal for you.
For the most up-to-date information on the amount and included benefits, please see these pages on the Amazon website:
---
Fulfillment By Amazon (FBA)
On some items you'll notice the phrase "Fulfilled By Amazon." This means the item is for sale by a business or individual other than Amazon, but that the item is sitting on the shelves at an Amazon warehouse. So, if you purchase the item, Amazon will pack and ship your order.
Why doesn't the seller just ship the item from their own location? Many do, but some sellers feel that their customers are more comfortable with Amazon fulfilling the order, so they ship their items to Amazon before you ever buy them and allow Amazon to do the packing and shipping for them.
---
Feedback
Amazon, like eBay, has a highly successful feedback system. When a customer is shopping on Amazon they can check a seller's feedback rating left by previous customers. It's a great way to help ensure you're dealing with a seller that is truly interested in customer satisfaction.
---
Later, Dude
If you find something you like when you're shopping at Amazon but you're not ready to purchase it right now, you can always add it to your shopping cart so it will be easy to find later. Here are a few tips:
In most cases, Amazon will keep track of what's in your shopping cart for 90 days.
Later on, if you decide you don't want the item after all, it's easy to click "delete" and remove it from your cart.
In the meantime, if you want to check out with other items, click "Save for later" to move the item to a separate, but still easy-to-find list beneath your shopping cart.
Important: Putting an item in your Amazon shopping cart or "Save for later" list does NOT reserve the item! It just makes it easier to find if it's still in stock when you come back.
Below: Screenshot image showing the "delete" and "Save for later" links.