We can show you an excellent selection of Western saddles for sale such as barrel saddles, ranch and roping saddles, trail saddles, mule saddles, and more. Saddle brands include such famous makers as Billy Cook, Circle Y, Crates, Court's, Dakota, Fabtron, and others. In addition, many of the pages below also have information about saddles, horses, or ponies. For a little bit of trivia about Western saddles, please scroll down this page beneath the saddles for sale.
Below are Western saddles from a variety of major sellers including eBay, HorseSaddleShop, StateLineTack, and Amazon.
Shop For Western Saddles By Type Or Brand
---
---
---
---
---
---
---
---
---
---
---
---
---
---
---
---
---
---
---
---
---
---
Saddles For Sale On eBay
---
Western Saddles For Sale: Beyond The Working Cowboy
Today, most modern Western saddles for sale have two distinctive innovations brought about by the needs of the working cowboy: The saddle horn and the double rigging. These two features remain on most Western saddles because they are useful for other things beyond the cowboy's needs. They are a distinct part of what makes a saddle a Western saddle. Those two Western saddle features are:
The saddle horn. Saddle horns, perhaps best known as the place a cowboy dallies or ties their rope, are useful for other things, too. They're handy when mounting or dismounting, and they're a great place to hang items you want to keep handy. They can also be held to help keep a rider's body position exactly where they want it (such as when turning a barrel in barrel racing, sliding off a horse while steer wrestling, riding a cutting horse, or riding up and down steep slopes when trail riding).
Double riggings. A "double rigged" saddle means it has a front cinch and a back cinch. (Most modern Western saddles come with a place for a back cinch even though some riders don't use it.) Double riggings provide extra stability to keep a saddle where it should be when it's used for the same examples we just shared (above), and for other reasons as well.
Below: A modern Western saddle with a saddle horn and double rigging. This saddle is for trail riding.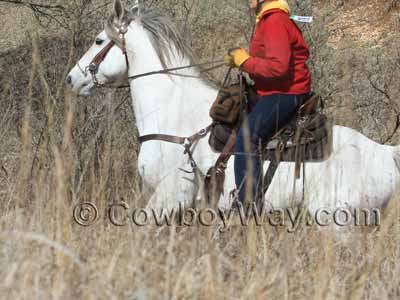 So, whether it's for the working cowboy or cowgirl or a wide variety of other types of Western riding disciplines, most modern Western saddles offered for sale are true to their roots and built with a saddle horn and double rigging.