Compare prices on new and used Billy Cook roping saddles between several major online sellers. Billy Cook is known for offering offer superior quality and craftsmanship in their saddles as well as great looks.
Below: A Bill Cook roping saddle with rawhide on the pommel and cantle.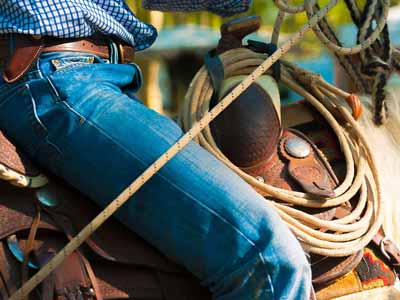 ---
Comparison Shop For Billy Cook Saddles
Below are Billy Cook roping saddles for sale from eBay, Amazon, Horse Saddle Shop, and State Line Tack. This page makes it easy to compare prices from major online sellers all in this one page. The Billy Cook saddles on eBay are both new and used. The ones from the other sellers are mostly new, but they occasionally have a used one for sale, too.
---
From eBay
See more Billy Cook roping saddles On eBay
---
From Amazon, HorseSaddleShop, and StateLineTack
The Billy Cook roping saddles from Amazon, Horse Saddle Shop, and State Line Tack are mostly new. However, you can occasionally find a used used Billy Cook roper on HorseSaddleShop.
Most of the saddles shown are new, but some might be used.
Shipping is almost always included in the price for locations in the continental USA.

Some saddles by HorseSaddleShop are listed twice. Why?

It's because HorseSaddleShop is one business (located in Bremen, Indiana), with two websites (HorseSaddleShop.com and eSaddles.com), and they often show the same saddle on both websites. In case one website would have a better deal on a saddle, saddles from both websites are shown.
See more Billy Cook roping saddles On HorseSaddleShop
---
You might also like: