A Dakota mule saddle is:
Made by Dakota Saddlery in Alabama. They are known for making quality saddles and other tack at affordable prices.
Made to fit a mule as opposed to a horse. While a mule is half horse (a mule is a cross between a male donkey and a female horse) their conformation is typically different, including through the back where the saddle rests.
Below are Dakota mule saddles for sale.
Below: A guide in the Grand Canyon National Park leads riders up Heartbreak Hill, a steep portion of the Bright Angel Trail. The guide and riders are all riding mules, which are often prized for their sure-footedness and endurance in rough terrain.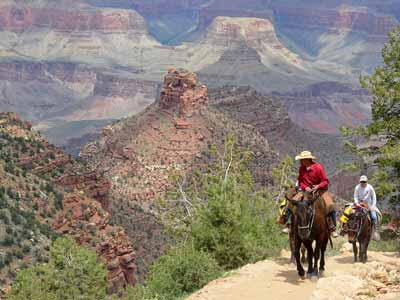 Photo by the National Park Service. Public domain image.
---
From eBay
In the past we've noticed only the occasional Dakota mule saddle on eBay. If they have any, they can be seen below followed by other mule saddles.



Look for Dakota mule saddles on eBay
---
From HorseSaddleShop
HorseSaddleShop is one of the largest saddle dealers in the country. Almost every
saddle they carry is in stock and ships the same day.
Most of the saddles shown are new, but some might be used.
Shipping is almost always included in the price for locations in the continental USA.

Some saddles by HorseSaddleShop are listed twice. Why?

It's because HorseSaddleShop is one business (located in Bremen, Indiana), with two websites (HorseSaddleShop.com and eSaddles.com), and they often show the same saddle on both websites. In case one website would have a better deal on a saddle, saddles from both websites are shown.
---
A Couple Of Saddled Mule Photos
Below: A group of riders ride mules down Jacob's Ladder on the Bright Angel Trail in the Grand Canyon.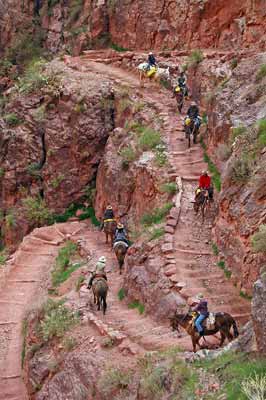 Photo by the National Park Service. Public domain image.
Below: Wranglers on mules in the historic Bright Angel Trail mule corral, which dates from 1937.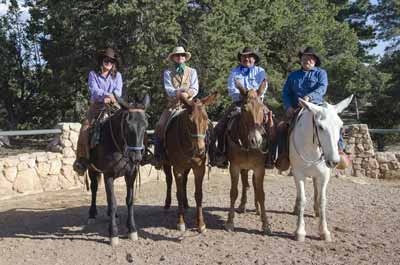 Photo by the National Park Service. Public domain image.
---
You might also like: