Reinsman Saddlery was founded in 1993 and quickly became known as a maker of high-end bits, tack, saddle pads, and saddles. Their line of saddles includes barrel racing saddles of exceptional quality and good looks.

Below: The Reinsman Sharon Camarillo BRX barrel saddle 4212 from HorseSaddleShop. Beautiful Sleepy Sunflower tooling, 3-way adjustable in-skirt rigging, 4 inch cantle, and a quilted chocolate suede seat.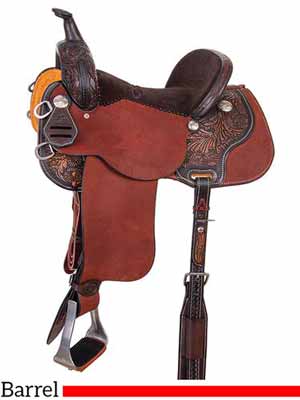 ---
From eBay, HorseSaddleShop, and Amazon
Below are Reinsman barrel saddles from several major online sellers. This page lets you easily compare prices and selection. Most of the saddles are new, but some are used.
Last updated on January 10, 2022 10:39 pm
See more Reinsman barrel racing saddles on HorseSaddeShop
See more Reinsman barrel racing saddles on eBay
---
About Reinsman Saddles
Reinsman saddles are made in the USA. Their line of bits, saddles, and other tack is recognized for exceptional quality among knowledgeable horsemen. Reinsman takes great pride in making performance saddles for the highest levels of competition.
World Champion barrel racers that ride in, and endorse, Reinsman barrel saddles include, in no particular order:
Charmayne James – 11-time World Champion Barrel Racer (1984-1993 for 10 consecutive championships, and 2002). She has qualified for the National Finals Rodeo (NFR) 19 times. You can see Charmayne James Reinsman saddles here.
Molly Powell – Molly turned pro as a barrel racer at the remarkable young age of 10. Since then she has qualified for the National Finals Rodeo 10 times, the Canadian Finals Rodeo 5 times, and the Calgary Stampede 23 times.
Sharon Camarillo – 4-time qualifier for the National Finals Rodeo.
Marlene (Eddleman) McRae – World Champion barrel racer (1983), won the Calgary Stampede 5 times.
Below: World Champion barrel racer Charmayne James. Ms. James endorses several Reinsman barrel saddles that bear her name.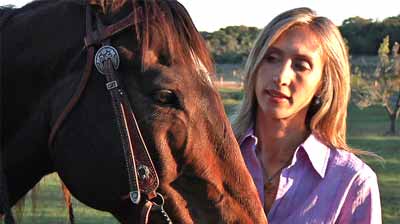 Below: The Charmayne James Arizona Flower Barrel Saddle from HorseSaddleShop. Close contact skirt, silver laced rawhide cantle, 24 inch rounded skirt, in-skirt rigging, and great looks.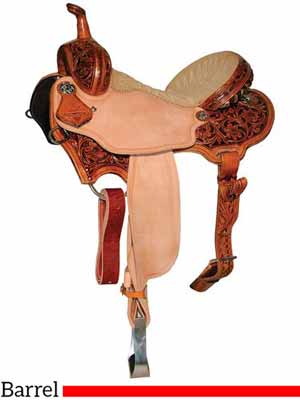 ---
You might also like: