Easy-to-handle lightweight saddles for the trail. Take the stress off of saddling and unsaddling for a day of trail riding fun.
So, how light is a lightweight trail saddle? That varies from one saddle to the next, but the ones on this page are mostly 25 pounds or less. For more information about lightweight trail saddles, please scroll down beneath the saddles for sale.
Below: The Circle Y Pioneer Flex2 Trail Saddle 1665. This saddle weighs approximately 25 pounds.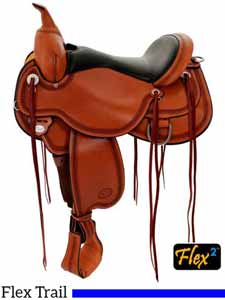 Did you know? Lightweight barrel saddles and lightweight roping saddles are popular, too.
---
From eBay and HorseSaddleShop
This page makes it easy to compare saddle prices and selection between major online sellers.
The HorseSaddleShop saddles shown below typically weigh 25 pounds (approximately) or less. Please also note that larger seat sizes might weigh a little more.
See more trail saddles on HorseSaddleShop
Hint: When using the link above to see HorseSaddleShop's trail saddles, use the sorting feature at the left (for desktop) or tap "Show Filters" (on mobile) to see saddles according to weight.
See more lightweight trail saddles on eBay
---
What Makes A Lightweight Trail Riding Saddle Light?
The answer to that question varies. However, below are a few common reasons some trail saddles are lighter than others.
The saddle tree – The basic foundation of most saddles is the saddle tree. Heavier trees, like those found in roping and ranch saddles, make the tree strong enough for roping large cattle, but add to a saddle's overall weight. Lightweight trail saddles usually begin with lighter saddle trees. While these trees cannot typically be roped off of without causing significant damage to the saddle, they are still plenty strong enough for many years of trail riding.
Less leather – Another way of lightening a saddle's weight is to use less leather. This can be accomplished in a number of ways: For example, lighter weight saddles often have shorter, and/or rounder saddle skirts, or cut-out areas underneath the stirrup fenders (which can also allow for closer contact with the horse).
Synthetic materials – Some lightweight saddles use a combination of leather and synthetic materials, such as Cordura. Synthetic materials are lighter than leather, easier to clean, and have an added bonus of softening the price tag on a saddle.
Below: A lady trail rider. Some men and women trail riders prefer, or need, a lightweight saddle for trail riding.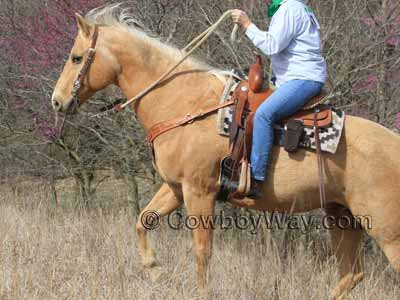 ---
A Couple Of Lightweight Trail Saddles
Fabtron Saddlery makes the 7108 (16 inch seat) / 7104 (15 inch seat) trail saddle. It has a Ralide tree, 4″ cantle, and Cordura in some areas instead of leather. Reasonably priced, and weighs in at a skinny 22 pounds (approximately).
Below: The Fabtron 7108 / 7104 lightweight trail saddle from HorseSaddleShop.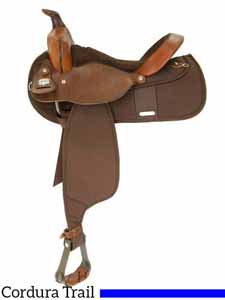 Cashel makes a Western trail saddle that features a short, round skirt and in-skirt rigging. It also offers a choice of seat sizes and tree widths. This beautiful saddle weighs in at a lightweight 24.5 pounds (approximately).
Below: The Cashel Western Trail Saddle from HorseSaddleShop.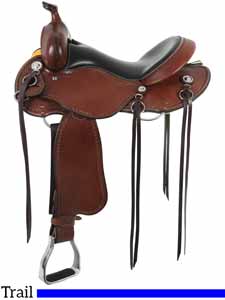 When looking for a lightweight trail saddle, you might also like to take a look at Lady Trail Saddles. Saddles made for a lady trail rider are made with a lady's anatomy in mind, and many of them are lighter in weight, too.
---
You might also like: