Below are Billy Cook Wade saddles for sale. The Wade saddle is popular for all aspects of ranch work which often includes long hours in the saddle, riding over rough terrain, and roping. It's also popular with other riders for its fit and comfort to both horse and rider. A Wade saddle is often easily recognized among horsemen by its low, slick fork ("swells") and saddle horn.
Below: A Billy Cook hard seat Wade saddle with a dropped flat plate rigging.
HorseSaddleShop.com image. Used with permission.
---
Comparison Shop Billy Cook Wade Saddles
Below are Billy Cook (brand) Wade saddles for sale from several major online sellers. You can compare different models and prices all on this page.
From eBay
See more Billy Cook Wade saddles on eBay
---
From Amazon, HorseSaddleShop, and StateLineTack
Most of the saddles shown are new, but some might be used.
Shipping is almost always included in the price for locations in the continental USA.

Some saddles by HorseSaddleShop are listed twice. Why?

It's because HorseSaddleShop is one business located in Bremen, Indiana, with two websites (HorseSaddleShop.com and eSaddles.com). They use the same logo (HorseSaddleShop) for both of their websites. Usually their prices are the same, but just in case one website has a better deal saddles from both websites are shown.
Caution! Please take a good look at the saddles from Amazon, because some of them are not made by Billy Cook! The search results that lists the saddles you see here aren't always perfect and sometimes incorrect results from Amazon show up.
---
What Is A Billy Cook Wade?
The phrase "Billy Cook Wade" sounds a lot like the name of a single person with three names, like entertainers Jamie Lee Curtis or Tommy Lee Jones. However, with a Billy Cook Wade saddle it's two separate names describing one saddle: "Billy Cook" refers to the name of the saddle maker, and "Wade" refers to the style of tree the saddle is built on.
Billy Cook saddles and other tack are sought after due to their longstanding reputation for quality tack. They make a complete line of tack and saddles, including their Wade saddle.
Below: A Wade saddle with beautiful tooling.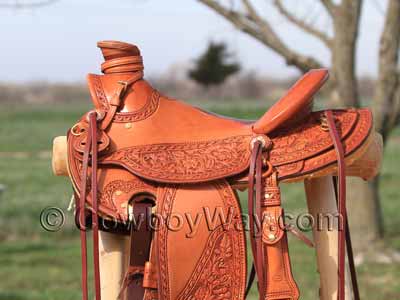 Below: A brand new Wade saddle. This particular one was awarded as a trophy saddle.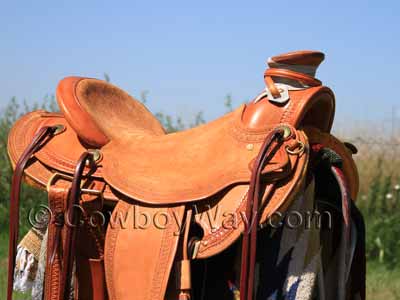 ---
Who Was Clifford Wade?
As you might already know, the famous Wade saddle was named after a man by the name of Clifford Wade, who had inherited the saddle from his father, Aaron Wade. Mr. Wade, senior, had purchased the saddle from an unknown maker in the late 1800s and passed it on to his son Clifford when he died.
A neighbor of the Wades, Tom Dorrance, admired the make of the saddle and had one made similar to it with some adjustments. Tom Dorrance, like his father Bill Dorrance, was a respected horseman and the saddle maker wanted to call the new style of saddle a "Dorrance." Tom Dorrance, though, preferred to call it a "Wade" and this was the name the saddle came to be known by.
---
You might also like: