Below are roping saddles for ranch and arena for sale. Large selection from big name makers like Billy Cook, Tex Tan, Dakota, and more saddles.
---
---
Also good information about roping saddle riggings and saddle trees.
Below: A trophy team roping saddle.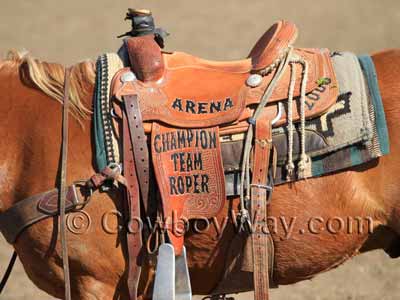 ---
Comparison Shop Roping Saddles
Below are roping saddles for sale from several major online sellers.
---
From eBay
See more roping saddles on eBay
---
From HorseSaddleShop and StateLineTack
HorseSaddleShop is one of the largest saddle dealers in the country. Almost every
saddle they carry is in stock and ships the same day.
Most of the saddles shown are new, but some might be used.
Shipping is almost always included in the price for locations in the continental USA.

Some saddles by HorseSaddleShop are listed twice. Why?

It's because HorseSaddleShop is one business (located in Bremen, Indiana), with two websites (HorseSaddleShop.com and eSaddles.com), and they often show the same saddle on both websites. In case one website would have a better deal on a saddle, saddles from both websites are shown.
See more roping saddles on HorseSaddleShop
See more roping saddles on StateLineTack
---
What Is A Roping Saddle?
The term "roping saddle" refers to a Western type of saddle specially built for roping cattle. Most roping saddles are either "full-rigged," "7/8 rigged," or "3/4 rigged." This means that the front cinch is farther forward toward the front of the saddle than an older style of rigging called "center fire." Full-rigged, 7/8 rigged, and 3/4 rigged saddles are designed to handle the force and stress of roping, both on the saddle and on the horse.
Since the front cinch on a roping saddle is fairly far forward, a roping saddle will often also have a a second cinch, called a "back cinch" toward the back of the saddle. A back cinch prevents the back of the saddle from rising up when roping or riding in rough country. A saddle with a front and back cinch is often called a double-rigged saddle.
Below: A roper ropes a cow in the wild cow milking at a ranch rodeo.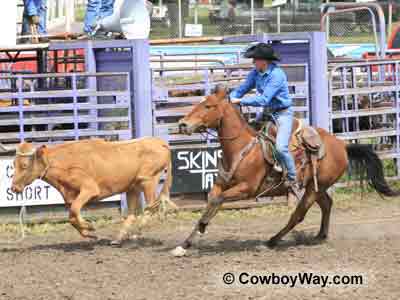 Below: A close-up of the saddle pictured above. The blue line is illustrating that the front cinch is close to the front
of the saddle, as opposed to being farther back closer to the center of the saddle.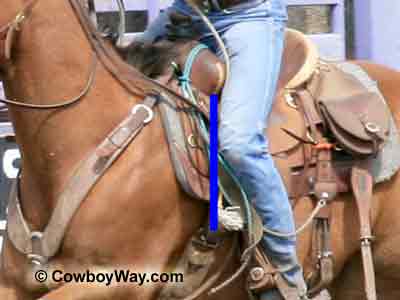 ---
Roping Saddle Trees
The tree of a roping saddle is usually heavier and sturdier than trees in other types of saddles. In the past, roping saddles mainly had trees made of wood covered with bullhide or rawhide. While this type of tree is still generally considered to be the most durable for roping, they are almost always the heaviest type of trees. In recent years lighter weight trees have become more popular in roping saddles, such as wood covered with fiberglass, "Ralide" trees (Ralide is an extremely strong form of plastic), or Equi-Fit trees (sometimes also called a "Steele Equi-Fit" for its designer, Ed Steele).
Below: A bare saddle tree for a ranch/roping saddle.
---
You might also like: