Circle Y has made saddles of superior quality, design, and craftsmanship since 1960. Circle Y saddles are made from the finest leathers available in the industry. They are the saddles of choice for knowledgeable, demanding riders.
Below: A Circle Y saddle.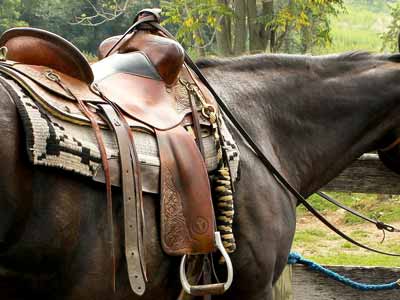 ---
Comparison Shop For Circle Y saddles
Below are Circle Y saddles of all types for sale from several major online sellers.
Or, you can use these pages to find a Circle Y saddle of a specific type:

---
From eBay
See more Circle Y saddles on eBay
---
From HorseSaddleShop and StateLineTack
HorseSaddleShop is one of the largest saddle dealers in the country. Almost every
saddle they carry is in stock and ships the same day.
Most of the saddles shown are new, but some might be used.
Shipping is almost always included in the price for locations in the continental USA.

Some saddles by HorseSaddleShop are listed twice. Why?

It's because HorseSaddleShop is one business (located in Bremen, Indiana), with two websites (HorseSaddleShop.com and eSaddles.com), and they often show the same saddle on both websites. In case one website would have a better deal on a saddle, saddles from both websites are shown.
See more Circly Y saddles on HorseSaddleShop
See more Circly Y saddles on StateLineTack
---
You might also like: