What is a Wade mule saddle?
A "Wade" is a style of fork in a saddle tree.
A "mule" is a cross between and Jack (male donkey) and a mare (female horse).
A Wade mule saddle, then, is a saddle with a tree that has a Wade fork, and bars designed to better fit a mule than a horse. Below are Wade mule saddles for sale.

Below: Two mules with saddles.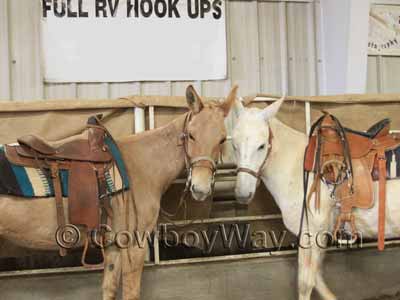 ---
From eBay
In the past we've found very few Wade mule saddles on eBay. But their listings change daily so one could show up any time. If you'd like to check, you can use the link below.
Look for Wade mule saddles on eBay
---
From HorseSaddleShop
HorseSaddleShop is one of the largest saddle dealers in the country. Almost every
saddle they carry is in stock and ships the same day.
Most of the saddles shown are new, but some might be used.
Shipping is almost always included in the price for locations in the continental USA.

Some saddles by HorseSaddleShop are listed twice. Why?

It's because HorseSaddleShop is one business (located in Bremen, Indiana), with two websites (HorseSaddleShop.com and eSaddles.com), and they often show the same saddle on both websites. In case one website would have a better deal on a saddle, saddles from both websites are shown.
---
From StateLineTack
When we've visited StateLineTack we haven't noticed them carrying Wade mule saddles. Mule saddles, yes, but not Wade mule saddles. However, things change, and if you'd like to check with them you can use the link below.
Look for mule saddles on StateLineTack
---
Below is a photo of a donkey (burro) wearing a slick fork saddle. A mule is a cross between a male donkey and a female horse. A mule often benefits with a saddle built for its conformation as opposed to a horse's conformation.
Below: A donkey (burro) wearing a slick fork saddle.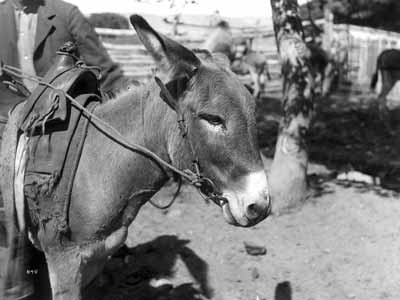 About the photo: Black and white photo, circa 1900, part of the California Historical Society Collection. Public domain image.
You might also like: