World Champion Charmayne James barrel racing saddles for sale. Ms. James is an 11-time World Champion barrel racer.

Below: The Charmayne James Record Breaker barrel saddle from HorseSaddleShop. It has a short, shallow saddle skirt, wide tree with extra bar flare, and center balanced seat. The Record Breaker is also available in roughout.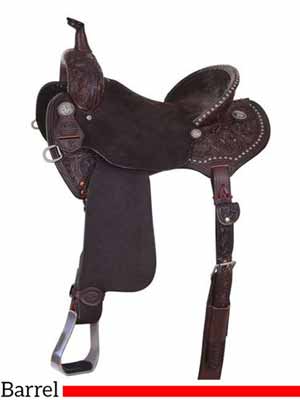 Charmayne James is one of the winningest barrel racers of all time. She won the World Champion title in barrel racing a jaw-dropping 11 times (more than any other barrel racer in history), and was the first woman to wear the prestigious Number 1 back number at the National Finals Rodeo. For more information about Charmayne James, please scroll down beneath the saddles for sale.
---
From eBay and HorseSaddleShop
Below are Charmayne James barrel saddles for sale from different major online sellers. This page lets you easily compare prices and selection. Most of the saddles are new, but some are used. You can also find a few accessories, such as bits.
See more Charmayne James barrel saddles on HorseSaddeShop
See more Charmayne James barrel saddles on eBay
---
About Charmayne James
Charmayne James (1970 – ) is an 11-time World Champion barrel racer. She won the world championship for 10 consecutive years, from 1984 through 1993, then again in 2002. She has qualified for the National Finals Rodeo (NFR) 19 times.
Ms. James won the World Championship title 10 consecutive years on Gills Bay Boy (1984-1993) aka "Scamper," and once (in 2002) on Cruising On Six, aka "Cruiser."
Below: Barrel racer Charmayne James.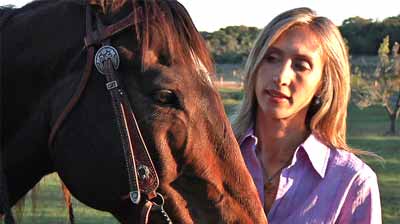 ---
Charmayne James' Famous Barrel Horse Scamper
Ms. James is most famous for winning her first 10, and consecutive, World Championships on her bay horse Gills Bay Boy (1977-2012), better known as Scamper. Originally purchased by James' father from a cowboy working in his feedlot, he suggested Charmayne give the horse a try as her next barrel horse. The two formed a partnership that took them to the pinnacle of barrel racing success year after year.
In his lifetime Scamper earned many accolades, titles, and awards, including:
10 Women's Professional Rodeo Association (WPRA) Barrel Racing world titles (1984-1993)
5 American Quarter Horse Association (AQHA) "Horse Of The Year" titles (1989-1993)
7 Women's Professional Rodeo Association (WPRA) "Horse With the Most Heart" titles (1986, 1988–93)
He was awarded the AQHA Silver Spur Award in 1992
He was inducted into the Rodeo Hall of Fame in 1996
According to Ms. James, Scamper was in good health until he passed away at the age of 35 on July 4, 2012. He remains one of the most iconic horses ever to compete in competition of any kind. His loving owner, partner, caretaker, and companion, Charmayne James, said at the time of his passing:
"What a gift he was. It's sad that he is gone but what life he had. It's something to be celebrated."
---
About Charmayne James Barrel Saddles
Over the years Charmayne James has worked with several saddle makers to craft barrel racing saddles to her exacting standards. In the past she has worked with prestigious saddleries such as Cactus and Double J. Currently, she has a successful partnership with Reinsman, who make their line of saddles in Texas, USA.
---
You might also like: