Below are new, and occasionally a few used, Tucker Horizon North Star trail saddles for sale.

The North Star is part of the Tucker Horizon series, a highly popular series of saddles that have Tucker's advanced saddle tree system and ergonomic, shock absorbing seats. For more about the Tucker North Star trail saddle, please scroll down beneath the saddles for sale.
You might also like: The Tucker Horizon Trail Head (lower cantle and higher saddle horn than the North Star).
Below: A Tucker Horizon North Star trail saddle from HorseSaddleShop.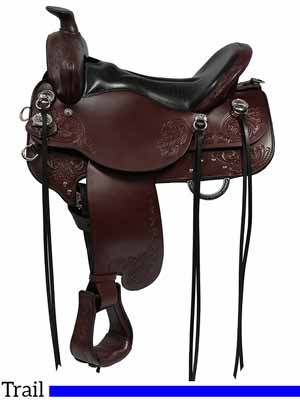 ---
From eBay and HorseSaddleShop
Note: If eBay doesn't have any Tucker North Star saddles, other Tucker saddles will be shown.
See the Tucker North Star on HorseSaddleShop
See more Tucker Horizon saddles on eBay
---
About HorseSaddleShop
HorseSaddleShop is one of the largest saddle dealers in the country. Almost every saddle they carry is in stock and ships the same day.
Most of the saddles shown are new, but some might be used.
Shipping is almost always included in the price for locations in the continental USA.
Many (most?) of their saddles have customer reviews, which can provide helpful information when you're shopping for a saddle.
---
About The Tucker Horizon North Star Trail Saddle
Made with English bridle leather that provides a luxurious, supple feel out of the box.
The "Tri-tech fit system" is designed to provide hours of riding comfort for your horse. The base provides modest flexibility to accommodate conformational variances in a horse's back, and the skirt includes a flexible panel to maximize weight distribution and help eliminate pressure points.
5 inch cantle
2.5 inch high saddle horn
Full skirt
Rigging: In-skirt with single front dee and straight rear dee
Weight: Approximately 31 pounds
Available options on the Tucker North Star:
NOTE:  The seat size, color, and saddle tree options shown below are usually not available from an eBay seller. To choose these options, shop for the Tucker North Star on HorseSaddleShop.
Seat Size: Several to choose from.
Color: Brown or black.
Tree: Medium, wide, extra wide, or *FB medium.
*What is the "FB" in a Tucker saddle tree? It stands for "flatter barrel." This tree is designed for horses whose ribs do not curve outward as much as other horses. Instead, their ribs hang straighter down, without as much outward curve. This type of conformation is sometimes referred to as "slab sided."
---
The Tucker North Star vs. The Tucker Trail Head
Tucker makes several trail saddles in their Horizon series, including the North Star (see the saddles above) and the Trail Head (see the Tucker Horizon Trail Head here). Both of these saddles are very popular with horse owners, but the differences, and similarities, between the two can be confusing. Maybe the comparisons below will help.
Note: We have done our best to give accurate information as shown below. However, it is up to you to verify any information you find here.
Differences
Saddle Horn
Tucker North Star – 2.5 inches high
Tucker Trail Head – 2 inches high
Cantle
Tucker North Star – 5 inches high
Tucker Trail Head – 4 inches high
Saddle Tree Widths
Tucker North Star – Medium, wide, extra wide, and FB medium (the "FB" is for "flatter barreled")
Tucker Trail Head – Medium, wide, and extra wide
Similarities
The North Star and Trail Head both have:
Full, 26 inch skirts
They each weigh approximately 31 pounds
They are both tooled
The both have chrome hardware with engraved Tucker logo conchos and rings
---
Tucker Saddle Seat Size Chart
If you've never owned or sat in a Tucker saddle before you will probably want to take a look at their seat sizing chart to help determine what size seat you will need. That's because most riders need a seat that is slightly larger in a Tucker saddle compared to most other Western saddles due to the padding in Tucker seats. In general, most people riding in a Tucker Western saddle (with a saddle horn) will need a seat 1/2″ larger than typical for other Western saddles.
This chart, courtesy of HorseSaddleShop, can help you out: Tucker Seat Sizing Chart.
---
You might also like: