Martin Saddlery makes some of the most respected and beautiful barrel racing saddles on the market today.

Martin barrel saddles are ridden and endorsed by world class barrel racers, including Sherry Cervi and Lisa Lockhart. Below are Martin barrel racing saddles for sale.
Below: The Martin Saddlery FX3 Barrel Racer 67-C2 barrel saddle from HorseSaddleShop. Your choice of seat size and tree widths, desert flower and basket tooling, round Mother Hubbard skirt, and adjustable rigging.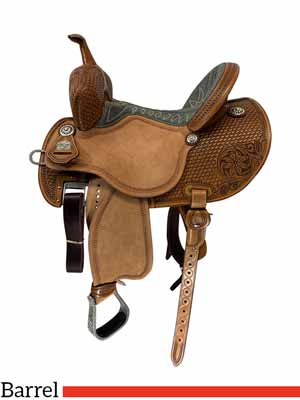 ---
Comparison Shop Martin Barrel Saddles
From eBay and HorseSaddleShop
Below are Martin barrel saddles for sale on HorseSaddleShop and eBay. This page lets you compare prices and selection between these two major online sellers.
It's worth mentioning that the new Martin barrel saddles for sale on HorseSaddleShop almost always offer a choice of seat sizes, and sometimes other options as well.
However, Martin barrel saddles on eBay are typically for sale "as is." For example, you don't have options for seat size, etc.
See more Martin barrel saddles on HorseSaddleShop
See more Martin barrel saddles on eBay
---
About HorseSaddleShop
HorseSaddleShop is one of the largest saddle dealers in the country. Almost every saddle they carry is in stock and ships the same day.
Most of the saddles shown are new, but some might be used.
Shipping is almost always included in the price for locations in the continental USA.
Many (most?) of their saddles have customer reviews, which can provide helpful information when you're shopping for a saddle.
---
What Is FX3 and BTR In Martin Barrel Saddles?
As you may have noticed, some Martin barrel saddles are described as FX3 or BTR. So, what does those things mean?
According to Martin Saddlery:
 
The FX3
"The FX3 is a revolutionary saddle built with the aggressive racer in mind. The secure seat, higher swell, and forward-hung fenders give the rider security to sit deep on the pockets, and hold the feet forward while riding a shorter stirrup. This gives added control on the most athletic and hard-turning horses."
and
The BTR
"BTR is a refined saddle designed to give the rider security without restriction. With streamlined, forward fenders that move freely and a flatter seat, the rider is able to adjust quickly from the drop to acceleration. The swell and horn are designed to help maintain position without interference. Preferred by professional barrel horse trainer Jolene Montgomery."
---
About Martin Saddlery
Martin saddles, including their barrel saddles, are made in American by Martin Saddlery. They use only the highest quality materials in their saddle making, including Hermann Oak leather. They are meticulous about craftsmanship, and employ some of the best craftsman in the industry to make saddles that are innovative, functional, durable, and beautiful.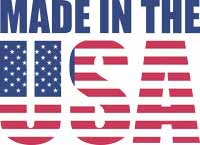 Martin makes a complete line of barrel racing saddles to accommodate the needs of each horse-and-rider team searching for just the right saddle for their unique partnership.
---
You might also like: