Below are used English saddles, for a variety of disciplines, for sale. There is usually an excellent selection including saddles for dressage, show jumping, hunt seat, eventing, and more.

Below: A rider in an English saddle.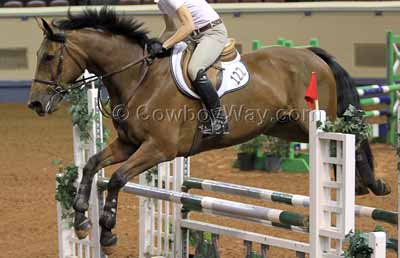 ---
From eBay and HorseSaddleShop
See more used English saddles on HorseSaddleShop
See more used English saddles on eBay
---
Buying A Used English Saddle On eBay: Good Things To Know
How old is the used saddle?
Just how used is the English saddle?
Are there several clear pictures of the saddle? In most cases you will want photos of the saddle from all angles, including underneath.
What size is the seat of the saddle? What are the flap and gullet measurements?
For a seller on eBay, if the seller claims the saddle is a certain brand or make do they give model and serial numbers, and/or show an identifying stamp or plate on the saddle to back up their claim? If you find a used saddle you like on HorseSaddleShop, they are experts at identifying saddles and their descriptions are reliably accurate.
Does the saddle come with or without fittings girth, stirrups, stirrup leathers, etc.)? It would not be unusual for a used saddle to sell without these items, so you should know exactly what you are, and are not, getting.

If the saddle does come with any fittings, are they also clearly described and shown in the photos?

Does the saddle have any defects? It is reasonable to assume that a used English saddle may have defects of some kind. A few blemishes can mean the saddle is a good deal while still being perfectly usable.
What will the shipping charges be? With an eBay seller, shipping charges may or may not be included in the price. On HorseSaddleShop shipping charges are included in the price.
---
You might also like: