Below are used Tucker saddles for sale, and a few new ones on clearance. They're available from different online sellers, some of whom call them "pre-owned" instead of used.

For good things to know before buying a used Tucker saddle please scroll down. Did you know:
Tucker saddles are made in the USA by Tucker Saddlery in Yoakum, Texas.
The used Tucker saddles on eBay are for sale by various sellers across the USA (and possibly other countries).
The used Tucker saddles area on HorseSaddleShop includes not only used Tucker saddles, but also new ones on clearance.
The used saddles on HorseSaddleShop are for sale by various owners, but HorseSaddleShop has the saddle in their possession in their warehouse. They put all used saddles through a cleaning and inspection program. More on this below.
Below: A Tucker saddle being used on a trail ride.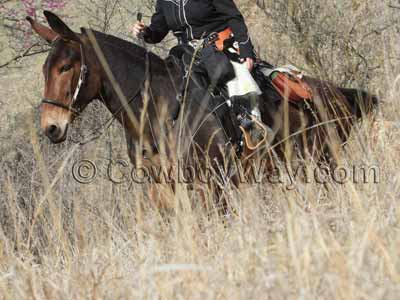 ---
From HorseSaddleShop and eBay
Below are used and/or clearance Tucker saddles for sale (and sometimes a few used Tucker accessories).
See used and clearance Tucker saddles on HorseSaddleShop
See more used Tucker saddles on eBay
---
About Used Saddles From HorseSaddleShop
Used saddles for sale on HorseSaddleShop come from owners/sellers all across the country who use the professional services of HorseSaddleShop to sell their saddle for them. When HorseSaddleShop sells a used saddle for an owner, their process includes:
They have the owner/seller ship their saddle to HorseSaddleShop (which is located in Bremen, Indiana).
They clean and oil the saddle, and inspect it for soundness. If necessary, they make repairs or replacements.
They the write the description of the saddle to ensure it is described accurately.
When the saddle is sold, HorseSaddleShop handles the transaction and ships it to its new owner.
The used saddle is offered with free shipping and a two week return policy.
Some saddles by HorseSaddleShop are listed twice. Why? It's because HorseSaddleShop is
---
Used Tucker Saddles On eBay: Good Things To Know Before You Buy
Below are a few good things to know before buying a used Tucker saddle on eBay or anywhere else.
First off, is it actually a Tucker saddle? Occasionally a seller who isn't familiar with horse tack will list a saddle on eBay and describe it incorrectly. Look at the photos and read the description to make sure you agree it's a Tucker.
What type of Tucker saddle is it? Tucker makes trail saddles, endurance saddles, mules saddles, and more. If the seller isn't informed enough to tell you what type of saddle it is, they should show you enough clear photos that you can determine this for yourself.
Does the seller tell you such things as the kind of saddle tree, the seat size, how much the saddle weighs, and the style of rigging? If not, be sure to ask the seller any questions you may have before you bid or buy.
What does, and does not, come with the saddle? Don't assume you'll get cinches, a breast collar, saddle pad, or anything else. (This includes stirrups, by the way. While a lot of used saddles sell with stirrups some sellers like to keep a favorite pair of stirrups they're fond of for their next saddle.) If the seller doesn't mention what is included, and you're not sure, be sure to ask them before you bid or buy
Is shipping included in the price or is it extra? If it's extra, how much will it be?
Does the seller accept returns? On used saddles it's common for returns to not be accepted, but you never know so be sure to check. If the seller will accept the return of the saddle, will there be a re-stocking fee? (Many eBay sellers that are businesses might require a restocking fee, but this isn't as common with sellers that are individuals.)
If returns are accepted, who pays for the return shipping, you or the seller? (Hint: It's probably you.)
---
Tucker Saddle Seat Size Chart
If you've never owned or sat in a Tucker saddle before you will probably want to take a look at their seat sizing chart to help determine what size seat you will need. That's because most riders need a seat that is slightly larger in a Tucker saddle compared to most other Western saddles due to the padding in Tucker seats. In general, most people riding in a Tucker Western saddle (with a saddle horn) will need a seat 1/2″ larger than typical for other Western saddles.
This chart, courtesy of HorseSaddleShop, can help you out: Tucker Seat Sizing Chart.
---
You might also like: