Searching for high quality, high-end barrel racing saddles? We show you some below that you just might love.
Below: The Pozzi Pro barrel saddle SBP806 from HorseSaddleShop. With the famous standards and high quality of maker Double J saddlery, and a price tag in the neighborhood of $9,000, this is definitely a high-end barrel racing saddle.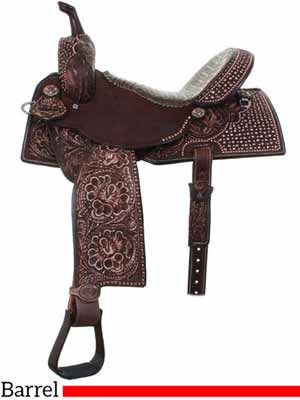 ---
From eBay, HorseSaddleShop, and Amazon
The saddles below are high-end barrel saddles from eBay, HorseSaddleShop, and Amazon. Most are brand new, but a few might be used.
See More High End Barrel Saddles On HorseSaddleShop
See More High End Barrel Saddles On eBay
---
About HorseSaddleShop
HorseSaddleShop is one of the largest saddle dealers in the country. Almost every saddle they carry is in stock and ships the same day.
Most of the saddles shown are new, but some might be used.
Shipping is almost always included in the price for locations in the continental USA.
Many (most?) of their saddles have customer reviews, which can provide helpful information when you're shopping for a saddle.
---
You might also like:
---
What Is A "High-End" Barrel Saddle?
The phrase "high-end" refers to something that is high quality (in many cases, a higher level of quality than it needs to be) and designed for high-income consumers. High-end items might also be:
Exclusive (not as many of them are made and sold compared to similar products).
Of a higher aesthetic standard. For example, made from superior materials or ingredients, and/or richly or ornately decorated.
A high-end barrel saddle, then, is a barrel racing saddle of exceptional quality and/or looks, and made for a budget that can afford the expense of such a saddle.
Below: The Sherry Cervi Stingray Barrel Racer 71-C5 from HorseSaddleShop. Made with exceptional quality by Martin Saddlery. With a price around $4,000 it is less expensive than the Pozzi Pro saddle at the top of this page, but is still a high-end barrel saddle.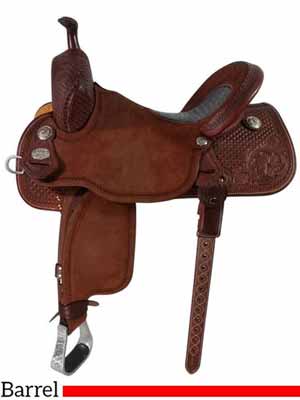 ---
Circle Y is the proud maker of the Martha Josey "You Are My Sunshine MJ51″ barrel saddle. Built on Circle Y's best-selling Cash saddle tree, it features higher swells and a 5" cantle for a deep, secure seat. The tooling is absolutely beautiful with sunflowers and contrasting leather colors.
Below: Circle Y Josey Cash You Are My Sunshine MJ51 barrel saddle. Less expensive than the Cervi Stingray saddle shown above, but still a gorgeous (and expensive) high-end barrel saddle.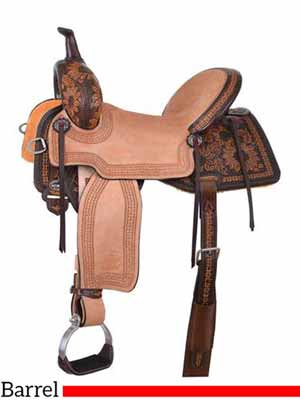 ---