For those who want only the best: High-end, and expensive, Western saddles.
In saddles, as in most other things, quality doesn't come cheap. High-end saddles for barrel racing, show, ranch work, and other Western riding disciplines usually have cheaper counterparts on the market, but the quality, craftsmanship, and looks just aren't the same.
Below: Martin Saddlery's "Hustler" all-around saddle. It's on the expensive side, but Martin's goal was to make a high-end Western saddle with quality materials, excellent craftsmanship, and eye-popping good looks.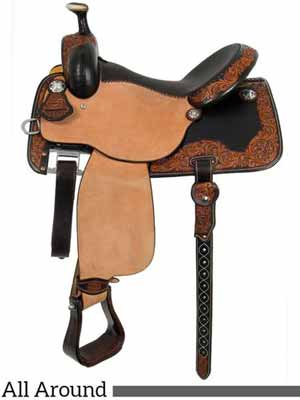 ---
Shop For High End Western Saddles
Below are high-end Western saddles for sale from several major online sellers.
From eBay and HorseSaddleShop
See More High End Saddles On HorseSaddleShop
See More High End Saddles On eBay
---
If you would like to get more specific, you might also like:
---
What Makes A High-End Saddle So Expensive?
There can be a number of things that raise a saddle into a category considered to be high-end, luxury, or expensive. It all depends on the individual saddle, but here are a few factors that might be the reason.
The Leather – High-end saddles are typically made of leather (as opposed to synthetic materials in some other saddles), and not all leather is created equal. Some leather is far better quality than others, depending on such factors as the animal it came from, how it was tanned, the part of the hide it came from, and more. High-end saddles typically use high quality leather that started from a quality hide, then progressed through each step of the leather-making process being handled by skilled workers and craftsman. In the end, it's a difference in quality that shows.
Quality Craftsmanship – The craftsmanship that goes into making a truly quality Western saddle cannot be overstated. It takes, skilled, experienced craftsman to produce saddles that are a functional, usable, piece of art. These skills take a great deal of time and experience to perfect, and each individual saddle shows the considerable talent, knowledge, and time it took to craft and make.
Tooling – Leather tooling is a fine art. High quality tooling on a saddle – and how much there is of it – can greatly increase the man-hours it takes to produce a saddle. Not every saddle maker is even capable of this kind of leather art. A finished, high-end saddle can be noticeably more expensive if it has a lot of skilled tooling.
Bling – Some high-end saddles come with bling. This bling can range anywhere from high quality silver, to Swarovski Crystals or other expensive adornments.
Collectibility – Some saddles, for whatever reason, become highly collectible. Maybe it's because of a former owner, or it's a one-of-kind piece, or it's a rare saddle from a respected maker that is retired or dead. Regardless of the reason, a highly sought-after saddle that has become collectible can be very expensive.
---
A Few High-Quality Standouts
Below you can take a look at the Double J Pozzi Pro barrel racing saddle SBP664. From Double J Saddlery, it features both high quality materials and craftsmanship. It also features stunning good looks with Hematite Swarovski Crystals, antique copper dots, and a generous amount of gorgeous tooling. This is a high-end barrel saddle for barrels racers with a generous budget. Even so, it's not as expensive as it's stablemate, the Double J Double J Pozzi Pro Barrel Racer SBP806.
Below: A Double J Pozzi Pro SBP664 barrel racing saddle from HorseSaddleShop.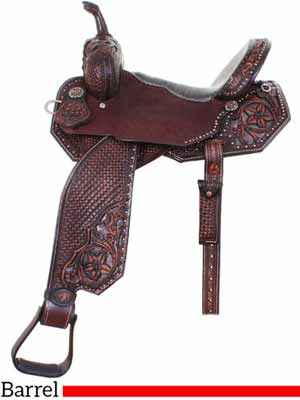 ---
Next up is Circle Y Saddlery's Vintage Diamond Show Saddle 1954. It has all of Circle Y's famous quality and craftsmanship exhibited in a saddle loaded with silver, contrasting leather colors, and gorgeous tooling pretty much anywhere there isn't silver. It's a show saddle for anyone that wants the best. It's expensive, but on a page devoted to high-end Western saddles that's not surprising.
Below: Circle Y's Vintage Diamond Show Saddle 1954. Loaded with silver and gorgeous tooling. Your choice of seat size and tree widths.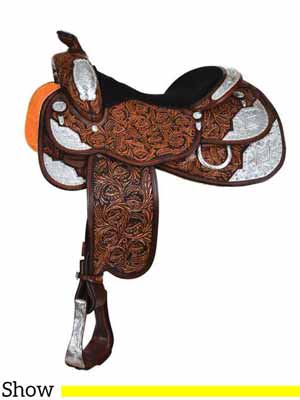 ---
From Reinsman Saddlery, the folks who know, and make, high quality saddles, comes the Reinsman Wade 4616 ranch saddle. It is rough, tough, cowboy-beautiful and ready for working in all day.
The 4614 is handmade and hand-tooled in Texas. Its Wade saddle horn matches the rawhide pencil roll on the cantle for a timeless look. It comes ready to cowboy in, right down to the 6 conchos, rings, and saddle strings to secure anything you care to take along for a day of work. The stirrups are pre-turned with Hamley twists. A little tooling and a border show off the high quality leather in this Western saddle classic. Flat plate rigging, 4 1/5″ cantle, and your choice of seat size and tree widths (regular or wide).
Below: Reinsman Saddlery's Wade ranch saddle 4616. A classic cowboy look in a high quality Western ranch saddle built to work and last.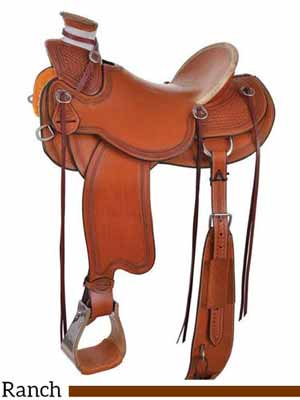 ---