The Circle Y Sheridan Flex2 trail riding saddle has round skirts and Circle Y's Flex-Lite saddle tree technology.

The Sheridan trail saddle has Circle Y's patented Flex2 saddle tree (more on this below), Softee leather on the seat jockeys and stirrup fenders, and more. For more information about the Circle Y Sheridan trail saddle please scroll down beneath the saddles for sale.
Below:The Circle Y Sheridan trail saddle. This one's from HorseSaddleShop.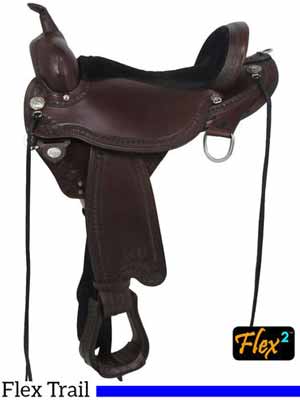 ---
Comparison Shop For Circle Y Sheridan Trail Saddles
Below are Circle Y Sheridan trail saddles for sale from major online sellers. This page makes it easy to compare prices in order to shop for the best deal. Most of the saddles are new, but occasionally some will be used.
Reviews: Horse Saddle Shop has reviews on most of their saddles. To see reviews of the Sheridan trail saddle, click on one of the choices below from Horse Saddle Shop, then look for the reviews near the saddle.
---
From eBay and HorseSaddleShop
If there are not any Sheridan saddles on eBay other saddles will be shown.
See The Circle Y Sheridan Trail Saddle On HorseSaddleShop
See Circle Y Sheridan Trail Saddles On eBay
---
About Saddles On HorseSaddleShop
[include-page id="36″]
---
About The Sheridan Trail Saddle By Circle Y
The Circle Y Sheridan is a trail riding saddle that is light weight, attractive, and suitable for a lot of trail riding enthusiasts and their horses. Here is more information about the Sheridan Flex2 trail saddle:
Maker: Circle Y saddlery in Yoakum, Texas. Circle Y has been making fine quality saddles since 1960.
Tree: The patented Circle Y "Flex2," which allows flexibility for the horse and a sturdy but lightweight tree for the rider.
Rigging: Dropped, 7/8, in-skirt C rigging for close contact.
Softee leather on the seat jockeys and stirrup fenders. Circle Y's Softee leather is real, full-grain leather with a broken-in feel. Softee seat jockeys and stirrups fenders are ready to ride, comfortably, right out of the box.
The Sheridan has what Circle Y calls their "tunnel skirt" design, which is an open channel underneath the saddle along the horse's spine. This allows for increased air flow and keeps the spine free of potential pressure.
Cantle: 4 inches.
Horn Size: 3 1/4 inch neck; 1 7/8 inch cap.
Tooling: Old West Border.
Skirt: Approximately 25 inches long.
Weight: Approximately 25 pounds.
---
The Circle Y Patented Flex2 Saddle Tree and the Sheridan Trail Saddle
The Circle Y Sheridan trail saddle uses Circle Y's patented Flex2 saddle tree. The Flex2 tree is an innovative design featuring increased comfort for both horse and rider.
The Flex2 has a "dual bar" saddle tree with a rigid, high density bar and a flexible, low density bar.
The high density bar is rigid and supports the rider's weight.
The low density bar is flexible, and "gives" up front by the horse's shoulder and at the back of the tree also. This allows for greater comfort and freedom of movement for the horse.
Even though the Flex2 saddle tree has some flexibility to it, it does not over flex and supports riders of all weights. It is a lightweight saddle tree that is covered in DuraHide for extra strength and stability in temperature extremes.
For a look at the Flex2, you can see the Circle Y video below featuring Julie Goodnight.
You might also like: