Cheap roping saddles for dedicated ropers on a budget. Mostly new saddles, but some are used. Shop for the right roping saddle at an affordable price.
The roping saddles below are are priced up to approximately $1,200.00.
The roping saddles below are for sale from several major online sellers.
The saddles are mostly new, but some may be used.
Smart shopping allows you to control what you spend and stay within your budget.
Shipping charges may or may not be extra.
A cheap roping saddle does not mean it has to be poorly made, or lack features that you like. If you shop wisely and patiently you can often find what you are looking for in good quality at an affordable price.
---
From eBay and HorseSaddleShop
On eBay, the prices shown might be a set price or the current bid. On HorseSaddleShop, the prices are a set price.
See more cheap roping saddles on HorseSaddleShop
See more cheap roping saddles on eBay
---
You might also like:
---
About Roping Saddles: Good Things To Know Before You Buy
Does the roping saddle come with or without cinches, stirrups, latigos, billets, etc.? It would not be unusual for a cheap roping saddle or an expensive one to sell without these items. Read the description carefully so you know exactly what you are, and are not, getting.
Is the roping saddle new or used? If the saddle is used, it's reasonable to expect it might have some defects of some kind. The seller should clearly describe any scratches, scuffs, tears, stains, etc., and show them in the pictures if possible.
Below: A used, but great quality, roping saddle. When offered for sale these roping saddles are cheaper to buy than new saddles, but still offer years of riding and roping for the new owner.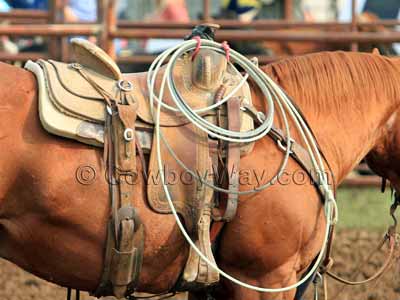 ---
You might also like: