Compare prices on Double J roping saddles between major online sellers.

Roping saddles made by Double J Saddlery are some of the finest, and most uniquely beautiful, in the industry.
Below: A Double J roping saddle from HorseSaddleShop.
---
Comparison Shop For Double J Roping Saddles
Below are Double J roping saddles for sale from eBay and HorseSaddleShop. This page makes it easy to compare prices between these two major online sellers. The saddles are both new and used.
---
From eBay and HorseSaddleShop
See more Double J roping saddles On HorseSaddleShop
See more Double J roping saddles On eBay
---
About HorseSaddleShop
[include-page id="36″]
---
The Double J Hi-Tech Roper SDR212's Saddle Horn
At first glance, the saddle horn on the Double J Hi-Tech roping saddle SDR212 looks a little like a saddle horn that's had some sort of terrible accident. After all, it is bare stainless steel with a funny-looking lip.
But, as you might have guessed, the horn on this roping saddle is anything but an accident. According to Double J Saddlery:
"The stainless horn enables more rubber to be placed in a smaller area, and features a unique lip at the back of the horn which keeps the rubber down and dallies don't slip off as bad."
Below: The Double J Hi-Tech SDR212 roping saddle. From HorseSaddleShop.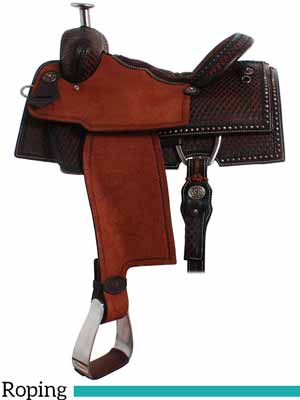 ---
About Double J Saddlery
Double J Saddlery has been in business since 1991. Their family represents three generations of saddle and tack making excellence.
Double J uses only the best raw materials available in every saddle, item of tack, and other item they build. This includes Herman Oak skirting leather, as well as custom designed stainless steel hardware.
In another a commitment to excellence, Double J Saddlery builds their own saddle trees in their shop in Yoakum, TX with their state-of-the-art saddle tree manufacturing system. Every saddle tree is individually made to their own demanding specifications for quality and fit.
---
You might also like: