Trail riding saddles by Circle Y are known for being saddles of superior quality, design, and craftsmanship.

Circle Y saddles are made from the finest leathers available in the industry. They are the saddles of choice for knowledgeable, demanding riders. Circle Y saddlery has been in operation in Yoakum, TX since 1960.
Below: A Circle Y trail riding saddle from HorseSaddleShop.
---
Comparison Shop For Circle Y Trail Saddles
Below are Circle Y trail saddles for sale from major online sellers. This page makes it easy to compare prices and selection. Most of the saddles are new, but occasionally you can find a used one.
Saddles for sale on eBay may or may not include shipping charges in the prices shown below. On HorseSaddleShop, saddles almost always ship free.
Reviews: Horse Saddle Shop has reviews on most of their saddles. To see reviews on any of the saddles below, click on one of the choices from HorseSaddleShop, then look for the reviews near the saddle's description.
From eBay, Amazon, and HorseSaddleShop
See more Circle Y Trail Saddles On HorseSaddleShop
See more Circle Y trail saddles on eBay
---
About HorseSaddleShop
HorseSaddleShop is one of the largest saddle dealers in the country. Almost every saddle they carry is in stock and ships the same day.
Most of the saddles shown are new, but some might be used.
Shipping is almost always included in the price for locations in the continental USA.
Many (most?) of their saddles have customer reviews, which can provide helpful information when you're shopping for a saddle.
---
Circle Y Flex Lite Tree
What is a Circle Y Flex Lite tree? The Flex-Lite tree by Circle Y is a patented saddle tree designed to be flexible for the horse and lightweight for the rider. The Flex-Lite tree conforms to the horse's back and the saddle skirts have a shock absorbing neoprene filler for the comfort of both horse and rider.
Below: A Circle Y trail riding saddle.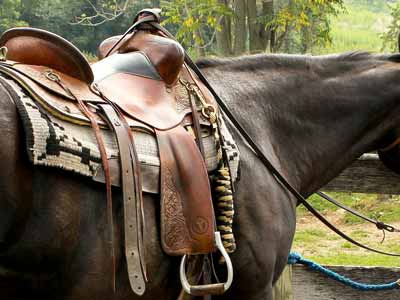 ---
Saddle Up And Ride The Trails Of Bryce Canyon National Park
Bryce Canyon National Park, located in southwestern Utah, is world famous for its abundant hoodoos. In case you're not up on your geology terms, a "hoodoo" is a tall column of rock that rises from the bottom of an arid basin. A hoodoo differers from a spire because a hoodoo varies in thickness from its wide bottom to its narrow top, whereas a spire tapers more-or-less uniformly from bottom to top.
While hoodoos are known to exist on every continent of the globe, the northern portion of Bryce Canyon has more of them than place in the world.
Below: When walking or riding the trails on a horse or mule at Bryce Canyon, you can take in breathtaking views, including hoodoos.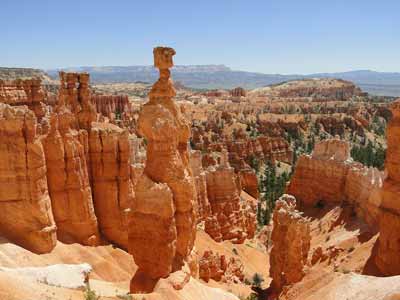 Full of wildlife and breathtaking views, Bryce Canyon National Park is a great place to take a trail ride and view the beauty of the terrain from a horse or mule. According to this page on the National Park Service website, you can rent a horse or mule for a trail ride or bring your own.
If you can't make it to Bryce Canyon for a trail ride, this video will give you a look from the trails:

PS – Bryce Canyon is not actually a canyon. Instead, it's a series of cliffs and natural amphitheaters. However, it still makes for beautiful trail riding.
---
You might also like: