Below are barrel saddles, new and used, for sale. There is usually an excellent selection of saddles by a wide variety of makers and in all price ranges.
Looking for a specific brand of barrel saddle? You might like our
barrel racing saddle menu.
Below: One of many barrel saddles from the saddle experts at HorseSaddleShop.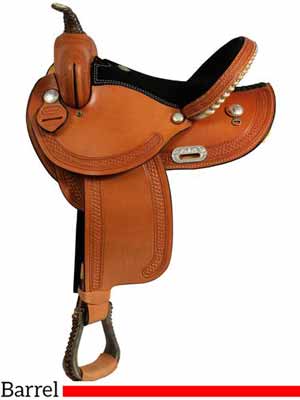 ---
From eBay, HorseSaddleShop, and Amazon
The barrel saddles below are both new and used.
See more barrel racing saddles on HorseSaddeShop
See more USED barrel racing saddles on HorseSaddeShop
See more barrel racing saddles on eBay
---
Barrel Saddles For Sale – Good Things To Know Before You Buy
Is the barrel saddle new or used?
What type of tree is in the saddle? Does it have semi-quarter horse bars, quarter horse bars, etc? Is the tree made of Ralide (a brand name for a type of durable polyethylene plastic) or something else?
What seat size is the saddle?
How much does the saddle weigh?
How high is the cantle?
Does the saddle have a square or rounded skirt?
What type of stirrups and saddle horn does the saddle have?
What type of rigging does the saddle have?
Are the pictures of the saddle clear enough that you can get a good look at it?
If the seller claims the saddle is a certain brand or make, do the photos show a stamp or other mark on the saddle to back up their claim? NOTE: This mostly applies to eBay sellers. The experts at HorseSaddleShop know how to identify saddles and their description of the brand or make can be trusted. However, some eBay sellers, even honest ones, don't understand saddles or other horse tack all that well. In that case, clear photos of a stamp or mark on the saddle can be very helpful.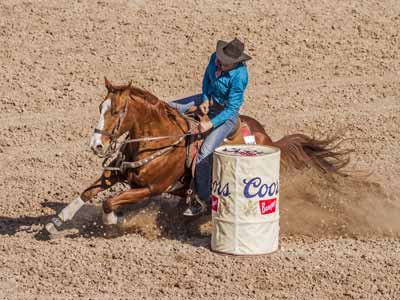 Does the saddle come with or without cinches, stirrups, latigos, billets, a breast collar, etc.? It would not be unusual for a saddle to be sold with or without any of these items, so you should know exactly what you are, and are not, getting.

If the saddle does come with any of the items listed immediately above, are they also clearly
described and shown in the photos?

What will the shipping charges be? On saddles from HorseSaddleShop, shipping charges are included on the prices. For saddles on eBay, however, shipping charges may, or may not be, included in the price. Make sure you know what the shipping charges are before you buy the saddle.
How soon will the saddle be shipped after you pay for it? HorseShaddleShop almost always ships new and used saddles within one business day. For eBay sellers, though, this may or may not be the case, so you'll want to find out their shipping schedule.
On eBay, how soon after the sale do you have to pay for your purchase? An increasing number of eBay sellers are getting tired of buyers who take a long time to pay for their item. Some of these sellers are now requiring the item be paid for within a certain time frame or the sale is off. Read the item's description for acceptable payment times and terms.
If you have any questions on a barrel saddle be sure to ask the seller before you bid or buy.
---
You might also like: