Big Horn saddlery's 908 trail riding saddle is different than a lot of trail saddles because it has an A-fork.

Along with an A-fork (more on this below), the 908 Big Horn trail saddle has an extra wide saddle tree and a short (24 inch), round saddle skirt. This saddle is a good choice for thick-built trail horses such as Foundation Quarter Horses, Haflingers, or other horses with low withers and thick, wide backs. For more information on the Big Horn Extra Wide Trail Saddle 908, please scroll down beneath the saddles for sale.
Below: The Big Horn Extra Wide Trail Saddle 908 trail riding saddle. This one's from HorseSaddleShop.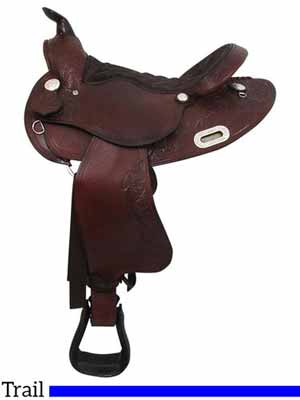 ---
Comparison Shop For Big Horn 908 Trail Saddles
Below are Big Horn Extra Wide Trail Saddle 908 trail saddles for sale from major online sellers. This page makes it easy to compare prices in order to shop for the best deal. Most of the saddles are new, but occasionally some will be used.
Reviews: Horse Saddle Shop has reviews on most of their saddles. To see reviews of any saddle, click on one of the choices below from Horse Saddle Shop, then look for the reviews near the saddle.
---
From eBay and HorseSaddleShop
Note: So far we haven't seen any Big Horn 908 extra wide trail saddles on eBay. If there are any, they will show up in the saddles below. If there aren't any, other saddles will be shown.
See The Big Horn Extra Wide Trail Saddle On HorseSaddleShop
See The Big Horn Extra Wide Trail Saddle On eBay
---
About Saddles On HorseSaddleShop
HorseSaddleShop is one of the largest saddle dealers in the country. Almost every saddle they carry is in stock and ships the same day.
Most of the saddles shown are new, but some might be used.
Shipping is almost always included in the price for locations in the continental USA.
Many (most?) of their saddles have customer reviews, which can provide helpful information when you're shopping for a saddle.
---
About The Extra Wide Trail Saddle By Big Horn
The Big Horn Extra Wide Trail Saddle 908 is a trail riding saddle with an A-fork, which is a bit unusual for a trail saddle. Here is more information about this trail saddle:
Maker: Big Horn Saddlery in Chattanooga, TN
Seat: Quilted, padded seat
Tree: Steele Equi-fit Haflinger tree, gullet 7.5." Note: As you might already know, a Haflinger saddle tree means the tree is built for a horse with a thick, wide, back. This tree is NOT just for Haflingers.
Cantle: 5.5″ inch
Horn: 2 1/2″ cap, x 3 1/4″ height
Rigging: Plate stainless steel hardware
Skirts: 24″
Stirrups: Leather covered, padded.
Trim: Silver conchos
Finish: Rich chestnut, hand rubbed edges, floral and border tooled.
Weight: 24 pounds
---
A-Forks and Trail Riding Saddles
The Extra Wide 908 trail saddle from Big Horn has an A-fork, an unusual feature for a trail saddle.
In case you're not familiar with a saddle's fork, here's a quick explanation:
The area at the front of a saddle is called the fork.
On a Western saddle, the saddle horn is at the top of the fork.
The bottom of the fork has a saddle bar attached to either side of it. (Note: The saddle bars can be seen on a bare saddle tree but they are covered on a finished saddle).
A saddle's fork is also commonly called the "swells" or the "pommel."
Below: The yellow arrow is pointing to the fork of a saddle. This fork is widest somewhere across the fork, not at the bottom. That makes this a a swell fork saddle, not an A-fork.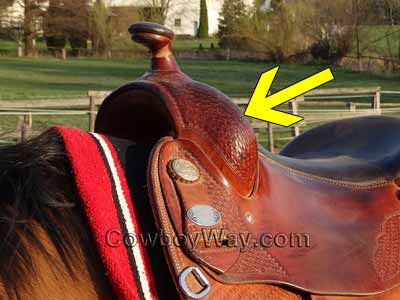 So, what's an A-fork saddle?
An A-fork saddle has a fork shaped similar to a capital letter "A" when seen from the front. It is widest at the bottom, instead of across the fork.
Below: The same saddle as above. If you can imaging the yellow highlighted area being removed, the saddle fork would be widest at the bottom, turning this into an A-fork saddle.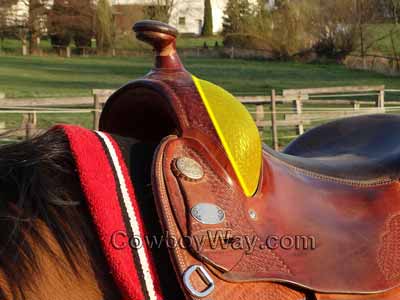 Is an A-fork good or bad in a trail saddle?
It's a matter of preference. Most trail riders like a swell fork saddle. A swell fork can provide security in the saddle seat.
However, some folks prefer a little more freedom in a saddle's seat, and a little more range of motion for their legs. In that case, an A-fork trail saddle like the Big Horn Extra Wide 908 might be just the saddle they've been looking for.
---
You might also like: