Dakota saddles, including their line of barrel racing saddles, are known for high quality at affordable prices. Their barrel saddles are offered in full or rounded skirts.

Dakota Saddlery is located in Ider, Alabama. They use excellent materials in their saddle making, including leather from the USA. They make a complete line of quality saddles, including barrel racing saddles, that can last a lifetime.
Below: The Dakota barrel saddle 307 from HorseSaddleShop. Semi Quarter Horse of Full Quarter Horse bars,  in-skirt 7/8 rigging, and 5 inch cantle.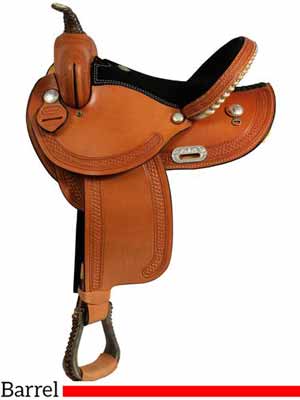 ---
Comparison Shop For Dakota Barrel Saddles
Below are Dakota barrel saddles for sale from eBay and HorseSaddleShop.com.
From eBay and HorseSaddleShop
See more Dakota barrel saddles on HorseSaddleShop
See more Dakota barrel saddles on eBay
---
About HorseSaddleShop
HorseSaddleShop is one of the largest saddle dealers in the country. Almost every saddle they carry is in stock and ships the same day.
Most of the saddles shown are new, but some might be used.
Shipping is almost always included in the price for locations in the continental USA.
Many (most?) of their saddles have customer reviews, which can provide helpful information when you're shopping for a saddle.
Dakota barrel saddles are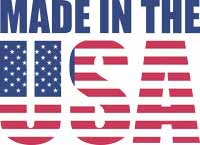 ---
What Makes A Barrel Racing Saddle Different?
Barrel racing saddles are designed for maximum durability, a secure ride, the freedom to allow a horse to run at top speed, and comfort for both horse and rider.
Below: A Dakota barrel racing saddle from HorseSaddleShop. This one is the Dakota Oak Leaf barrel saddle 300. It has a rounded skirt, 7/8 in-skirt rigging, and weighs approximately 29 pounds.
Typically, a barrel racing saddle will have in-skirt rigging to allow for closer contact of the rider to the horse, a high cantle, and a deep seat. Barrel saddle trees are designed to be light weight and flexible enough to allow the horse to move in the tight turns and long strides required for a winning run.
Saddle horns on barrel racing saddles are usually tall and upright, designed to allow the rider a secure, easy grip in order to keep themselves stable during hard, fast turns.
---
Dakota Saddle Reviews
Many of the Dakota barrel saddles for sale on HorseSaddleShop have customer reviews. These reviews can be very helpful when trying to choose the right barrel saddle for you and your horse. To read the reviews, simply click on any Dakota saddle above that you are interested in and look for reviews near the saddle's description.
---
You might also like: