Below are Western youth saddles for sale. Kids need a saddle that fits their smaller size and shorter legs. The youth saddles below are all types: Barrel, roping, show saddles, and more.

Below: A child in a Western youth saddle.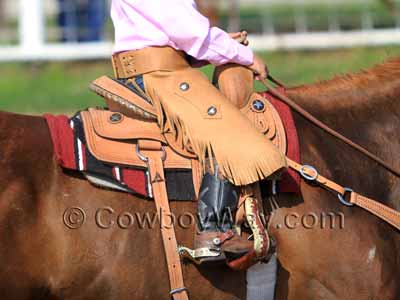 ---
From eBay and HorseSaddleShop
Below is a variety of saddles for kids. This page lets you compare prices and selection between major online sellers.
See more youth saddles on HorseSaddleShop
See more youth saddles on eBay
---
What Makes A Youth Saddle, Well, A Youth Saddle?
As you know, a youth saddle is a saddle for kids. Exactly what that means, however, isn't written in stone. That's because there aren't any industry-wide guidelines to define a "youth" saddle.
In general, though, there are several basic characteristics to take note of in a youth saddle. These include:
The size of the saddle seat. Youth saddle seats can vary in size quite a bit. The saddle seat might be made to fit a very small child, a small child, or a larger child/small adult.
The saddle tree. Some youth saddles are a pony saddle, meaning they have a small seat for the rider and a saddle tree meant to fit a pony. Other youth saddles, however, are a horse saddle, meaning they have a small seat for the rider but a saddle tree meant to fit a horse. It's always good to made extra sure you know what type of saddle tree a youth saddle has.
Below: This youth saddle is a ranch saddle with a hard seat, high cantle, and double-rigging. It has a small seat for a child, but a saddle tree for a horse.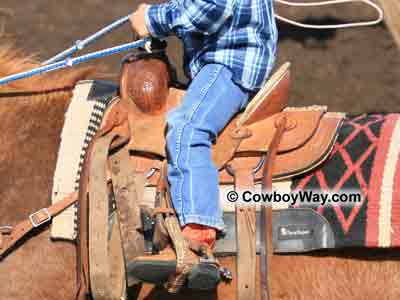 Tapaderos. Also called "hooded stirrups," tapaderos are popular with many riders, including working cowboys, cowgirls, and children. Tapaderos protect the rider's feet from brush or thorns, or from being pulled from the stirrup in brushy terrain. They also provide protection from weather (they're a particular favorite with some riders for cold-weather riding). They can also prevent the rider's foot from going all the way through the stirrup, helping to avoid potentially serious accidents. For this last reason, tapaderos are commonly found on youth saddles, particularly for the youngest of riders.
Below: A youth saddle with tapaderos. They popular on youth saddles to help prevent a child's foot from going all the way through the stirrups.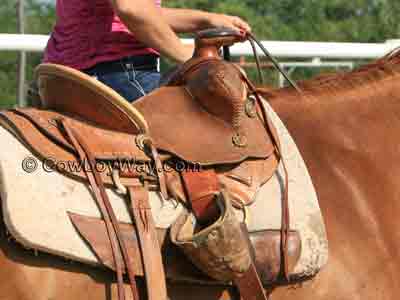 Below: Tapaderos on an adult's saddle.