Etsy For Cowboys and Horse Lovers
Etsy.com has became well-known as a place where small, individual sellers can offer their unique, handcrafted items for sale. Originally famous for handmade items like jewelry, clothing, etc., Etsy has now been "discovered" by cowboy and cowgirl craftsmen, too. That means Etsy has become a great place to find all kinds of original, handcrafted horse and cowboy gear.
If you're not familiar with Etsy, we'll try to answer a few common questions below.
What Is Etsy?
Etsy.com is an online marketplace where craftsmen and artists can offer their handmade goods or vintage items to shoppers looking for unique, customized, or one-of-a-kind items. Etsy itself does not sell anything; it simply acts as an online marketplace where sellers and buyers can come together.
Who Sells Stuff On Etsy?
Most Etsy sellers are individual craftsmen or artists, or small businesses. Some Etsy sellers, though, are businesses of all different sizes.
Is Everything On Etsy Handmade?
No. While Etsy is most famous for handmade items offered for sale by artists and craftsmen, not everything for sale on Etsy is handmade. Vintage goods of all kinds, for example, are also popular on Etsy. There might be other types of items for sale, too. Handmade, items, though, remain the most popular type of item for sale.
How Do I Buy Something On Etsy?
Like most websites where selling and buying takes place, you will need to register with Etsy before you buy. Registering allows you to purchase items, track a shipment, mark items or sellers as "favorites" so you can easily find them again, etc.

Instead of registering, you can also login using your Facebook or Google account.

After registering you start shopping! Looking for cowboy and cowgirl items? You can see our main Cowboy Etsy page for suggestions!
Do Etsy Sellers Have Feedback Ratings?
Yes. Similar to the seller feedback ratings on eBay.com or Amazon.com, Etsy also has feedback ratings. These ratings have been left by people who have purchased items from that seller in the past.
In the screenshot below:
The gold stars represent the seller's overall feedback rating. In this case, 5 gold stars represents 100% positive feedback.
This number represents how many times someone has left feedback for this particular seller (in this case, 23 times).
How Come So Many Etsy Sellers Don't Have A Lot Of Feedback?
While there all types of sellers on Etsy, including businesses that do a large volume of selling, many of the sellers on Etsy are individual craftsmen or small businesses specializing in handcrafted items. This means these sellers don't deal in high volume - by their own choice - and therefore only have a small amount of feedback.
What Kinds Of Payments Does The Seller Accept?
How Soon Will The Seller Ship After I Place My Order?
For this information, see the "Shipping & Policies" tab in an individual item's description. See the blue arrow in the screenshot below: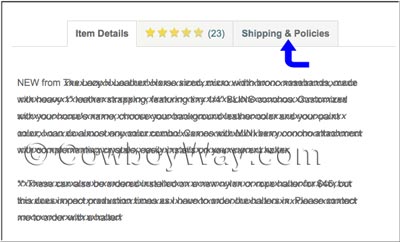 Common payment methods include credit cards, PayPal, checks, and money orders. All sellers are different, however, so it's important to read each individual seller's information to know what forms of payment they accept.
Important information about shipping on Etsy! Remember, Etsy is most famous for sellers offering specially ordered, handcrafted items. Therefore, many items and not made until after you place your order. Be sure to check the "Shipping & Policies" tab to see how long it will be before your order is completed and shipped.
Link To This Page
If you found this page useful or interesing and would like to link to it from your own website or blog, you can use the small code snippet below to make a link. Thanks!
Use ctrl+C in Windows or command+C on a Mac to copy the link.
<a href=""></a>
---
Below: Like and share this page on Facebook!