Horse Gestation Calculator
Use this horse gestation calculator to find out when your mare's due date!
Or, you might prefer to use our handy horse gestation table.
Below: A mare hangs her neck over her foal.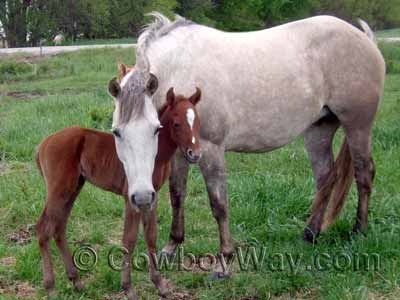 ---
To Calculate Horse Gestation:
Type the date the mare was exposed in mm/dd/yy format.


Do

put in the slashes ( / ) but

don't

use dashes ( - ).
Type the number of days of gestation you would like to calculate.
Click the "Estimate Date Of Birth" button.
The estimated due date is now shown!
---
Advertisement - Article continues below.
---
Common Gestation Periods (in days)
| | |
| --- | --- |
| Bison | 285 |
| Cat | 65 |
| Cow | 284 |
| Dog | 63 |
| Elephant, Asian | 645 |
| Elk | 255 |
| Giraffe | 425 |
| Goat | 150 |
| Goat, Pygmy | 145 |
| Horse | 340 |
| Mink | 45 to 52 |
| Mouse | 19 |
| Skunk, Striped | 63 |