2 Horse Trailers
A 2 horse trailer is just what it sounds like: A horse trailer designed to haul a maximum of 2 horses.
A two horse trailer can be a very simple trailer with room for two horses and (usually) also a storage area, or it can be a larger trailer with a tack room and/or living quarters.
Below are 2 horse trailers, both new and used, for sale on eBay. For a list of good things to know before buying a horse trailer on eBay or anywhere else, plus a description of common horse trailer terms, please scroll down beneath the trailers for sale.
Below: A bumper pull 2 horse trailer. Horse trailers, including 2 horse trailers, can have hitches that are bumper pull, gooseneck, or (less commonly) 5th wheel.
---
2 Horse Trailers For Sale On eBay
---
See 2 horse trailers directly on eBay
---
Buying A Horse Trailer On eBay
Most or all of the items below should be clearly mentioned in the trailer's description. If not, you may need to ask the seller a question before considering purchasing the trailer.
What year is the horse trailer?
Is it new or used?
What brand, make, or model is it?
Is it a bumper pull, gooseneck, or fifth wheel?
How do the horses load into the trailer? (Is it a "step up" or a does it have a ramp?)
Is there a tack area?
Does the trailer have a dressing room, or living quarters area?
What is the trailer's GVWR? This stands for Gross Vehicle Weight Rating and is the maximum amount of weight a horse trailer is rated to carry including cargo, mats, equipment, accessories, attachments, fluids, and whatever else including the weight of the trailer itself.
If the trailer is used, how used is it?

Is it a "fixer-upper?"
Is it in good shape, ready for use?
What is the condition of the floor?
What are the condition of the tires? If the trailer is a good deal you may not really care about how good the tires are, but unless you plan on putting on different tires before moving it, the tires should at least be good enough to get the trailer home.

What are the measurements, inside and outside, of the horse trailer (height, width, etc.)?
If the trailer is a slant load and it has an additional area not for the horses (such as a tack room, dressing room, living quarters, or whatever) what is the length of the short wall and long wall? Since the trailer is a slant load this additional area will be slanted, too, with one wall being shorter than the other. Knowing the length of the short wall and long wall will give you an idea of how large - or small - this area is.
Are there enough clear photos of the trailer, inside and out, that you can get a good look at everything you want to see? If not, you may need to ask the seller for additional photos.
Don't assume anything is included with the trailer, like mats. The description should clearly state what is included. If it's not mentioned, don't jump to conclusions it's included. If in doubt, ask the seller a question.
Does the trailer have any defects? The seller should clearly describe any dents, rust, scratches, scuffs, tears, stains, etc., and show them in the pictures if possible.
Where is the trailer located? Will you have to pick it up, or will it need to be delivered?

If the seller can deliver the horse trailer, what will the extra charge for delivery be?
If the seller can't deliver the trailer and you can't pick it up, what will the shipping charges be through a third party?

Will there be any taxes or additional fees due?
What methods of payment will be accepted?

Will the entire payment be due when you make your purchase, or will you put down a deposit then pay the balance when the horse trailer is picked up or delivered? Note: It is not uncommon for balances due to be accepted in cash or cashier's check only.

Every eBay item for sale has a "Seller info" area. Be sure to check this area to view the feedback rating that previous buyers have left for that particular seller. There is also an area where a potential buyer can read comments left by previous buyers.
eBay offers a free buyer protection plan for many items such as horse trailers. Be sure to read the details and eligibility under "Vehicle Purchase Protection" when looking at a horse trailer on eBay.
If you have any questions be sure to ask the seller before you bid. Look for the "Ask a question" link in the "Questions and answers about this item" area to ask your questions.
---
Common Horse Trailer Terms
Gross Vehicle Weight Rating (GVWR or GVW) - The GVWR (or GVW) is the maximum amount of weight a horse trailer is rated to carry. This includes the trailer itself and all of its cargo including horses, mats, accessories, attachments, feed, etc.
Living Quarters - This is a horse trailer that also has an area for people. While specifics vary widely from one trailer to another, the living quarters area is typically designed for one or several people to cook, eat, use the restroom, shower, relax, and sleep comfortably. Depending on the horse trailer the living quarters may be similar to a small home (finished cabinetry, built in stove, refrigerator, etc.) or less refined (for example, no built in amenities but there's room enough for a cooler and a few cots). The size of the living quarters and exactly what it does or doesn't include can vary widely from one trailer to another.
Long Wall / Short Wall - If a horse trailer has living quarters, the living quarters might have one outside wall that is longer than the other. (This is particularly true of slant load horse trailers.) The long side will, logically, be called the "long wall" while the other side will be referred to as the "short wall."
Below: Diagram of a 2 horse trailer showing horse stalls, the long wall, and the short wall.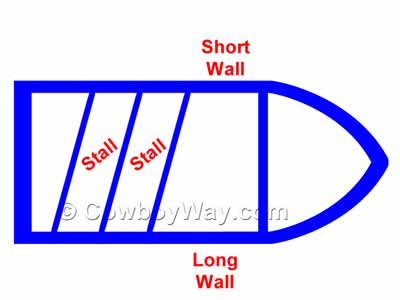 You Might Also Like...
Accessories