Batwing Chaps
Below are batwing chaps for sale. Batwing chaps are fuller cut than another common style of chaps called shotgun chaps.
Batwings are worn by working cowboys and cowgirls as protection against hazards inherent to a cowboy lifestyle. Batwing chaps can be plain or fancy and come with a variety of options. For more information on batwing chaps, please scroll down lower on this page. If you would like to broaden your search, you might like this link: Cowboy chaps, all.
Below: Leather batwing chaps.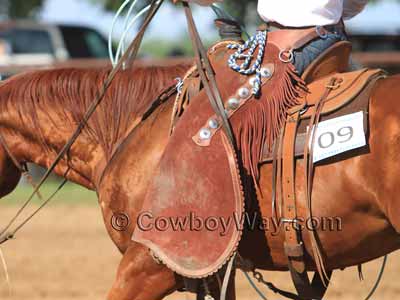 ---
From eBay, Etsy, and Amazon
Note: Many of the batwing chaps we've seen on Etsy are custom made to your specifications. When shopping on Etsy, make sure you know if the chaps you're interested in are already made and ready to ship, or if they will be custom made for you after you place your order.
See more batwing chaps on Etsy
See more batwing chaps on eBay
---
Batwing Chaps Photos
Batwing chaps offer working cowboys protection from brush, trees, thorns, weather, branding irons, and other hazards inherent to their lifestyle. Working batwing chaps can be plain or fancy, come with or without pockets, and can have different types of closures.
Rodeo chaps, worn in competition by bronc riders and bull riders, are a variation of batwing chaps. They are often brightly covered with elaborate fringe or eye-catching decorations.
Below: Batwing wing chaps with fringe half-way down.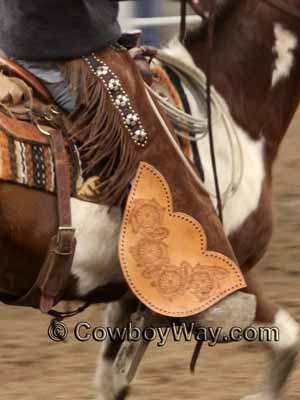 Below: Pockets on batwing chaps are a popular option. The pockets can have a closure, like the ones shown, or be more of a slit-style opening with a cover.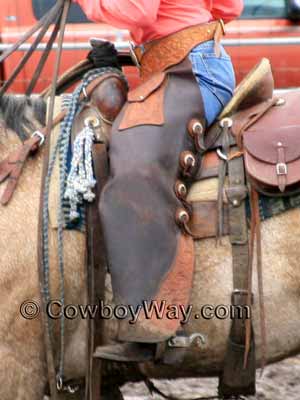 Below: Hair-on-hide batwing chaps. Some folks avoid hair-on-hide for working batwings because areas of the hair may wear off where the chaps get a lot of stress (for example, where a rope repeatedly rubs). However, they are still widely popular.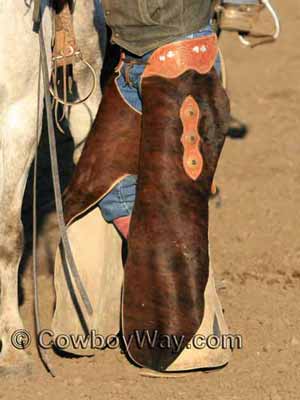 Below: Batwing chaps being worn by a ranch bronc rider. Batwing chaps are the style of chap rodeo chaps are based on, though working chaps like the ones in this photo usually lack the long fringe and bright colors typically found on rodeo chaps.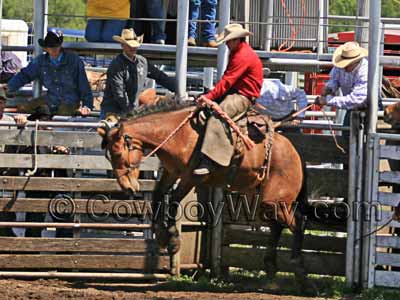 Below: Batwing chaps being worn by a rodeo pickup man. While it's difficult to tell from the picture, these batwing chaps have padding underneath them to help protect him from kicks and other hazards while picking up.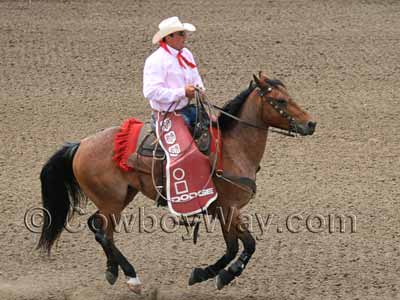 ---
About Buying Batwing Chaps
Are the batwing chaps new or used?
How heavy are the batwings? Remember, batwing chaps are made of leather and leather can come in different weights, or thicknesses. You don't want to get a pair of chaps that are either heavier or lighter than you thought they were.
What size are the chaps? Most chaps will be adjustable around the waist and and often in the thighs, but not in the length. Try to get actual inch measurements for the waist and the thighs (at their smallest and at their largest) instead of generic size labels, and be sure you know how long they are.
How do the chaps close (buckles, snaps, etc.)?
Does the seller describe the chaps as "vintage?" If so, you may want to use extra caution. According to the dictionary "vintage" is supposed to mean "Characterized by excellence, maturity, and enduring appeal; classic." This is pretty much how honest eBay sellers use the term, too. "Vintage," when used by an honest seller, means the batwing chaps are old but in good condition. You should expect a certain amount of wear that adds to their charm, but you shouldn't expect anything to be seriously damaged. Some eBay sellers, though, use the term "vintage" a bit too loosely. They may use the word because it sounds nicer than "really, really, used." When any pair of batwing chaps on eBay are described as vintage, read the description carefully, study the photographs closely, check the seller's feedback rating, and if you have any questions ask them before your bid or buy.
Do the batwing chaps have pockets?
How much will the shipping be? Leather chaps can be heavy. Be sure you know the shipping amount before you bid or buy.
Will the seller ship to your location? How soon will the chaps be shipped after you purchase them? Is shipping insurance required or optional?
What forms of payment does the seller accept?
How soon do you have to pay for your purchase? An increasing number of eBay sellers are getting tired of buyers who take a long time to pay for their item. Some of these sellers are now requiring the item be paid for within a certain time frame or the sale is off. Read the item's description for acceptable payment times and terms.
If you have any questions about a pair of batwing chaps for sale on eBay be sure to contact the seller and ask any questions before you bid or buy.