Cowboy Wedding Cake Toppers
Wedding cake toppers are small figurines representing the bride and groom that are placed on top of a wedding cake.
The right wedding cake topper can be a beautiful accent to any cowboy or Western wedding without breaking the budget. Below are cowboy wedding cake toppers for sale on Amazon and eBay.
A beautiful cake topper for a Western wedding: When Two Trails Become One Road. From Amazon.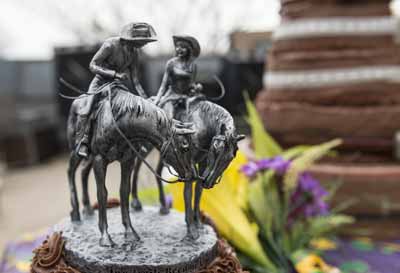 ---
From eBay, Amazon and Etsy
See more cowboy wedding cake toppers on Etsy
See more cowboy wedding cake toppers on eBay
---
About Wedding Cake Toppers
Wedding cakes, in some form or another (such as breads or pies), have been around for several thousand years. The wedding cake topper, however, is a relative newcomer to the wedding celebration and didn't become common in America until the late 1800s.
The first wedding cake toppers were not commercially produced, but instead were individually made by family, friends, or a perhaps a crafty baker. Most of them probably weren't figurines of small people: Instead, they were things like flowers, bells, or other decorative touches for the top of the wedding cake.
Below: Homemade cowboy wedding cake toppers that are several decades old.
It wasn't too long, however, before wedding cake toppers became small figurines representing the bride and groom. The first commercially produced wedding cake toppers typically showed a bride and groom decked out in formal wedding attire, side-by-side and often arm-in-arm or holding hands.
Below: A wedding cake topper showing a formally dressed bride and groom.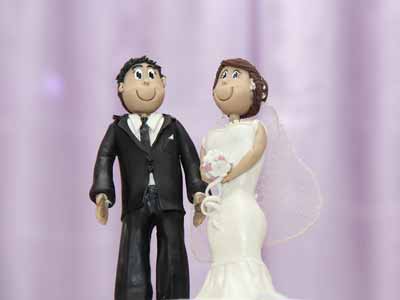 As time moved forward and wedding cake toppers that were figurines representing the bride and groom became the norm at many weddings, the demand for cake toppers that more personally represented the happy couple began to grow.
Today, while wedding cake toppers still might show couples in formal dress, the couple's personal style might be shown instead. For example, for cowboys, cowgirls, and horse lovers getting married the couple on top of the wedding cake might be shown wearing cowboy boots, with Western accents in their clothing, and/or with accessories such as horses, ropes, horseshoes, or other decorative touches indicating their common love for a cowboy or ranching lifestyle.
Below: A chocolate wedding cake with lace and cowboy boots for a topper.
---
Save The Cake Topper For Later
If you find a cowboy wedding cake topper for sale on Etsy that you like but you're not ready to purchase it right away, you can always add it to your shopping cart so it will be easy to find later.
In most cases, Etsy will keep track of your cake topper, and anything else in your shopping cart, for 30 days.
In the meantime, if you want to check out with other items you can click on "Save for later" to move the items to a separate, but still easy-to-find list beneath your shopping cart.
Also, if you put items into your Etsy shopping cart but don't check out after 30 days, Etsy will automatically move your items to the "Save for later" area beneath your cart. When you're ready to actually purchase any of these items, simply click "Move to cart" to put them back into your shopping cart and check out.
Important: Putting items in your Etsy shopping cart or "Save for later" list does NOT reserve them! It just makes them easier to find if they're still available when you come back.
Below: Screenshot image showing the "Save for later" and "Remove" links when an item is in the Etsy shopping cart.