Gene Autry's Cowboy Code
Gene Autry's Cowboy Code was written for all of his young fans that wanted to be just like him.
A wildly popular recording, movie, and television cowboy superstar of the 1930s, 1940s, and 1950s, his cowboy code reflected the characters he portrayed: Men of high moral character that stood for everything that was good, decent, and fair.
Gene Autry's Cowboy Code often goes by several different names (Cowboy Commandments, Cowboy Ten Commandments, and so on) and has been reprinted so many times you often find it with minor variations in the wording. For more information on Gene Autry please scroll down a little lower on this page.
Below: Publicity photo of Gene Autry, April, 1960.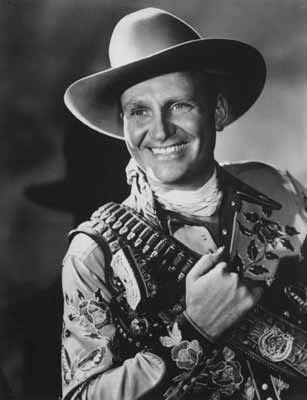 ---
The Cowboy Code By Gene Autry
1. The cowboy must never shoot first, hit a smaller man, or take unfair advantage.
2. He must never go back on his word, or a trust confided in him.
3. He must always tell the truth.
4. He must be gentle with children, the elderly, and animals.
5. He must not advocate or possess racially or religiously intolerant ideas.
6. He must help people in distress.
7. He must be a good worker.
8. He must keep himself clean in thought, speech, action, and personal habits.
9. He must respect women, parents, and his nation's laws.
10. The Cowboy is a patriot.
---
Advertisement - Article continues below.
---
About Gene Autry And The Kenton Hardware Company
To the people of Kenton, Ohio Gene Autry was more than just a popular singer and actor: He was the town's personal hero and rescuer from economic disaster.
In 1937 Kenton, Ohio was suffering extreme financial hardship due to the effects of the Great Depression on its leading industry, the Kenton Hardware Company. Founded in 1894 (it had been in existence for the four prior years as Kenton Lock Manufacturing Company) the company, well known for its successful line of cast iron toys and toy banks, was reeling under serious financial strain.
Formerly one of the biggest makers of iron toys in the world, poor sales were badly damaging the company's finances and causing the former giant to limit its employees to only working a couple of days a week.
When Gene Autry agreed to allow the struggling company to make a toy cap gun based off of his own pistols and bearing his name, the company's fortunes turned around almost overnight. The popularity of the first model of the cap gun gave birth to other models, and the Gene Autry cap gun became known as the toy that saved a town.
About Gene Autry
Gene Autry (born Orvon Gene Autry, 1907 - 1998) rose to American superstardom with phenomenally successful careers in singing, song writing, and acting.
Known as one of the entertainment industry's most popular singing cowboys and cowboy actors, Mr. Autry recorded more than 600 songs, wrote or co-wrote more than 250 songs, starred in his own successful weekly radio show for 16 years (Gene Autry's Melody Ranch), starred in more than 90 films, and produced and starred in 91 half-hour episodes of The Gene Autry Show for television.
He also toured extensively for public performances, most famously with his horse Champion. He has the notable distinction of being the only entertainer to have five stars on Hollywood's Walk of Fame (for radio, recording, motion pictures, television and live theatre / performance).
Mr. Autry was widely respected for living a life on-screen and off that adhered to the cowboy code that bore his name.
More Miscellaneous