Silence Of The Bell Book Review
Review Of:

"Silence Of The Bell, Monitoring Eastern Box Turtles With Australian Cattle Dogs"
Book Details:


Author: Anne Allbright Smith
ISBN: 978-1507580219
99 pages

The Short Version:

If you enjoy box turtles you'll probably appreciate all the information the author shares about them in this short book.

Disclosure:

Here at CowboyWay.com we purchased "Silence Of The Bell" with our own money. The opinions expressed here are our own.
---
Below: Book cover of "Silence Of The Bell" by Anne Allbright Smith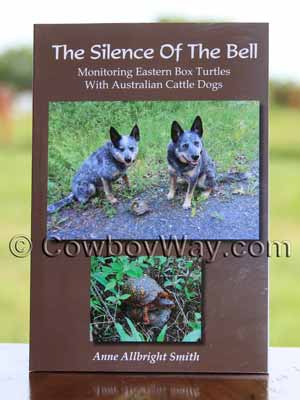 ---
Review
This is a small (99 pages) paperback book self-published by the author, Anne Allbright Smith. It's about Ms. Smith's experience tracking and monitoring box turtles and is likely to have a limited appeal.
Even so, we have to say we are box turtle fans and therefore enjoyed the book.
It shares the experiences of the author after she and her husband purchased a 65-acre piece of old farmland in New York state. Ms. Smith became captivated by the box turtles she found on her property but had difficulty finding them on her own due to the grass, brush, and woods.
She soon trained her two Australian cattle dogs, Anzac and Diggy, to find them for her. The book gets its name from the bell she kept on each of the dog's collars: Following the dogs across her property she couldn't always see them, but she could still hear their bells as they searched for turtles. If one of the bells went silent she knew that dog was sitting patiently by a turtle it had found, waiting for her to catch up.
Ms. Smith kept an extensive journal of the turtles she found (80+ in all over several years time) and when and where she found them. Not wanting to mark them, she identified individuals by photographs she took of their shells (each pattern on a box turtle's shell is unique).
Over time she met other turtle enthusiasts, and her personal journal became genuine research as she graduated into also monitoring some of the turtles through electronic tracking and became more absorbed into understanding the turtles and their habitat.
The book contains a great deal of information about box turtles, but still keeps a casual, conversational tone when you're reading it. If you have ever enjoyed that turtle in your yard, or have been curious about it, this short, easy-to-read book may be for you.
---
Summary
This is an unusual book that might have a limited audience. However, if you're a fan of box turtles like we are it's an unusual find and interesting to read.
More Reviews