Bull Riding Pictures - Page 1 of 3
We hope you enjoy the bull riding pictures on this page. For information on why bucking bulls exit the arena through a gate located near the bucking chutes, please see our brief article beneath the pictures.
All photos are copyrighted © and property of CowboyWay.com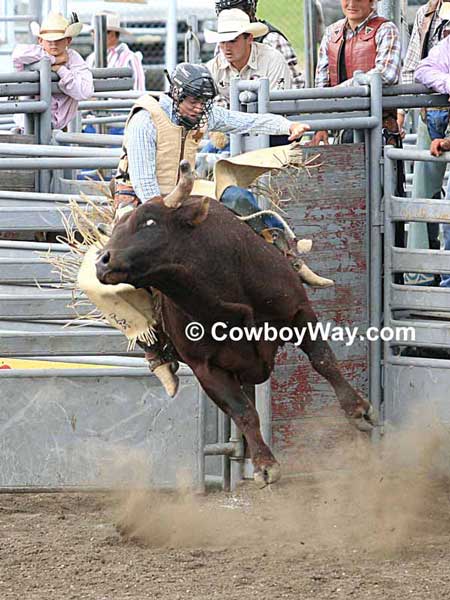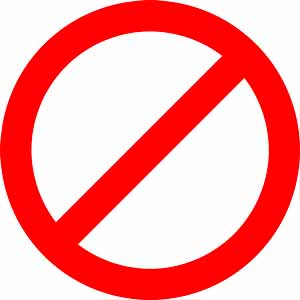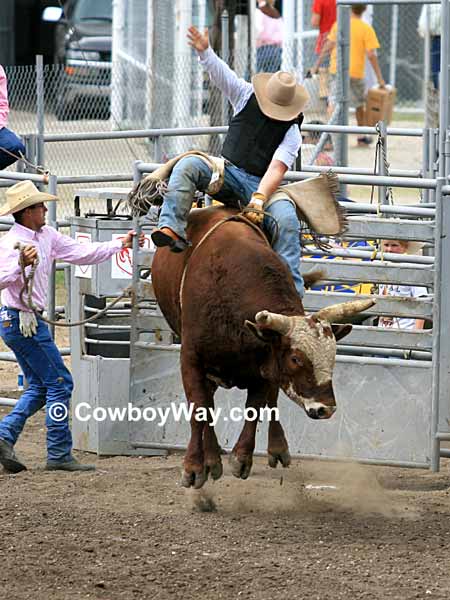 All photos are copyrighted © and property of CowboyWay.com
---
Bull Riding And The Return Gate: Why The Bulls Exit Where They Do
Have you ever noticed that when a bull ride is over the bulls are always let out of the arena through a gate (the "return" gate) located near the bucking chutes? This is because rodeo stock contractors want to help their bulls buck their best, and the gate a bucking bull uses to exit the arena is very important in helping him perform well.
Before we explain why the location of the return gate is so important, let's remember the basics of how bull riding is scored: A bull earns half of the total score for a bull ride and the bull rider earns the other half. The half earned by the bull will be higher if he bucks well instead of poorly, and the half earned by the bull rider will also be higher if the bull bucks well and requires more skill to ride.
So what does this have to do with where the return gate is located? Bucking bulls that buck while covering very little ground usually buck better - and therefore earn higher scores - than those that travel down the arena. If a bull knows that the return gate is near the bucking chutes it adds to his incentive to leave the chute and buck right where he is, close to the gate he knows he's going to leave through. On the other hand, if the bull were to be let out of the arena through a gate far away from the bucking chutes he would quickly learn to travel down the arena toward the far-away gate while he bucks, thereby earning lower scores for himself and his rider.
---
Photo Pages
Photos of a specific topic (for example, bareback bronc riding) that are likely to have been taken on different days and/or at different event venues.
Photo Of The Day
Bareback
Bareback - Black and White
Bronc Riding - Wrecks
Bull Riding
Bull Riding - Black and White
Bull Riding - Wrecks
Cheyenne Frontier Days
Circle Of Fear
Cows
Cowboy Mounted Shooting
Cowboy
Cowgirl
Cows and Flies
Draft Horses
Horses
Paint Horses
Ranch Bronc Riding
Ranch Cutting Horse
Ranch Rodeo - Junior
Ranch Rodeo
Saddle Bronc
Trick Riding
Wild Cow Milking
Wild Horse Race
Wild Mustangs
Event Photos
These are photos taken at one single event venue (for example - a particular rodeo on a certain day).
Link To This Page
If you found this page useful or interesting and would like to link to it from your own website or blog, you can use the small code snippet below to make a link. Thanks!
Use ctrl+C in Windows or command+C on a Mac to copy the link.
<a href=""></a>
---
Below: Like and share this page on Facebook!