Bull Riding Pictures, Black and White - Page 1 of 3
The photographs below are of Carpenter Rodeo Company livestock.
---
---
Carpenter Rodeo was an open rodeo company that toured Kansas and Oklahoma for more than 40 years, retiring in 1999. If known, the names of the bulls, bull riders, and locations are given.
All photos are copyrighted © and property of CowboyWay.com
Bananas, Clearwater, KS, 1971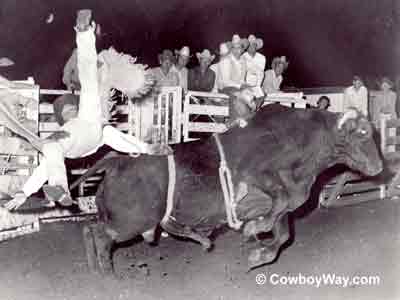 John Wright and Sky High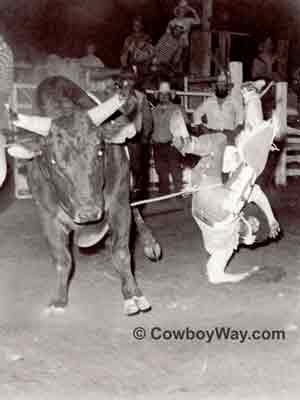 Jim Taylor and Braford
Peach Capitol Arena, Haysville, KS, 1979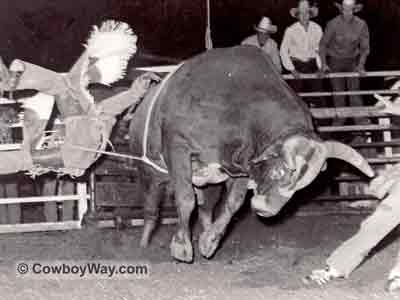 Doug Smith and Strawberry. Edmond, OK, 1969
All photos are copyrighted © and property of CowboyWay.com
---
Bull Riding Photo Credits
The photos on this page were taken by long-time Carpenter Rodeo Company photographer Steve Vanselous.
As you've probably noticed most of the photos show the bull riders getting bucked off instead of making a ride. This is because, over the years, bull riders usually purchased the photos from Steve Vanselous that showed themselves making a good ride. The photos showing the bull rider in a less flattering position didn't sell as well. When Steve stopped taking rodeo photos in the mid-1980s he sold his remaining photo inventory to Bill Carpenter of Carpenter Rodeo Company, and the majority of the remaining photos were of bull riders getting bucked off. The photos on this page are from Bill's collection.
---
---
Link To This Page
If you found this page useful or interesting and would like to link to it from your own website or blog, you can use the small code snippet below to make a link. Thanks!
Use ctrl+C in Windows or command+C on a Mac to copy the link.
<a href=""></a>