Cowboy Santa Figurines
Below are cowboy Santa figurines for sale. They come in a variety of sizes and materials. Most of them are new, but a few of them are used/vintage.
For good information to know before buying a Santa figurine, please scroll down. You might also like: Cowboy Christmas Ornaments.
Below: A cowboy Santa figurine with his horse. The horse is carrying a Christmas tree on the saddle as Santa kneels beside him in blue chaps, giving him a drink from his cowboy hat.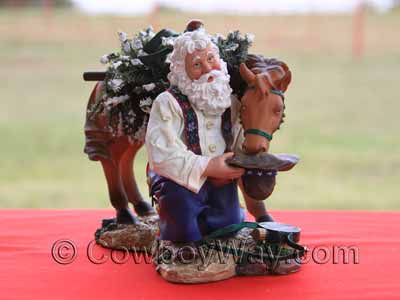 ---
From eBay, Etsy, and Amazon
See more cowboy Santa figurines on Amazon
See more cowboy Santa figurines on eBay
---
Cowboy Santa Figurines - Good Things To Know Before You Buy
Below are good things to know when buying a cowboy Santa figurine off the Web or anywhere else.
Is the cowboy Santa new or used? Many sellers on the Web sell used items, so it's always worth paying attention to whether or not an item is new or used. Most of the cowboy Santa figurines we've seen are new, but used ones are also sometimes available. The "Holly Jolly Rock Santa" is just one example of used/vintage cowboy Santas sometimes found for sale.
If the figure is used/vintage, does the seller describe any scratches, scuffs, chips, etc. and also show them in the photos?
How big is Santa figurine? Many photos show the figurine by itself which makes it hard to get a perspective of its size. Make sure you know, in inches, how tall and/or wide the figurine is.
What is the figurine made of? Is it durable enough to let children help decorate with it, or is it delicate/breakable and for adult handling only?
Is shipping included in the price, or will it be extra. If extra, how much will it be?
Do you need the cowboy Santa figurine by a certain time (for example, for Christmas decorating or for a Christmas present)? If so, can the seller ship it to you in plenty of time before you need it?
Will the seller accept returns? If so, what are the conditions for the return?
Below: A smiling cowboy Santa figurine with a hat, boots with spurs, work-type gloves, and a green shirt.
Below: A jolly cowboy Santa wearing a vest and chaps, and with mistletoe in his hat brim, a candy cane in his holster, and another candy cane is his hand.