Pictures Of Cowgirls - Famous Cowgirls
Below are pictures of famous cowgirls, along with short biographies for most of them.
Not all the famous cowgirls on this page have a biography because for some of them, little or nothing is known about the the photo. Some cowgirls were simply in the right place at the right time to have an iconic photo taken, but their personal information isn't known.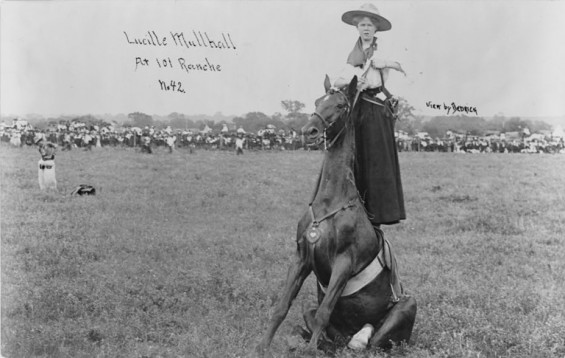 Legendary Cowgirl Lucille Mulhall - The First Cowgirl
Attribution: This image is in the public domain in the United States.
This 1909 photo is of legendary cowgirl Lucille Mulhall. According to writing on the photo it was taken at the 101 Ranch, which was located near Ponca City, OK.
Legendary cowgirl Lucille Mulhall is often referred to as "the first cowgirl." This is due partly to being one of the first women to compete against men in roping and riding events (the word "rodeo" wasn't in use at the time) and partly due to being referred to as a "cowgirl" by none other than Teddy Roosevelt.
Lucille was born in St. Louis, Missouri in 1885 to Zach and Agnes Mulhall. Four years later she moved with her family to Oklahoma Territory near a town named Alfred, where her family owned a large ranch. Shortly after moving to Alfred her father requested that the town's name be changed to Mulhall, citing that there were already two other towns named "Alfred" at that time. His request was granted.
When Lucille was quite young her father offered to let her keep, for her own herd, all of the Mulhall ranch-owned calves she could rope and brand by herself. By the age of seven her father put an end to the deal because Lucille was making too big a dent in the family herd.
In 1899, at age 14, Lucille starred in her father's Congress of Rough Riders and Ropers at a county fair in St. Louis, Missouri. It was the first of many starring roles across the country for her, also starring in her father's Mulhall's Wild West, the Miller Brothers' 101 Ranch Wild West Show, and even vaudeville.
Like legendary cowgirl performer Annie Oakley, Lucille was known for her diminutive size and ladylike behavior. But while Annie was famous for her incredible marksmanship, Lucille was legendary for her roping and riding skills. Lucille was inducted into the Rodeo Hall of Fame in 1975, and National Cowgirl Hall of Fame in 1977. Around 1922 she retired to the family ranch in Mulhall, and in 1940 died in a car wreck less than a mile from the Ranch.
---
Advertisement - Photos continue below.
---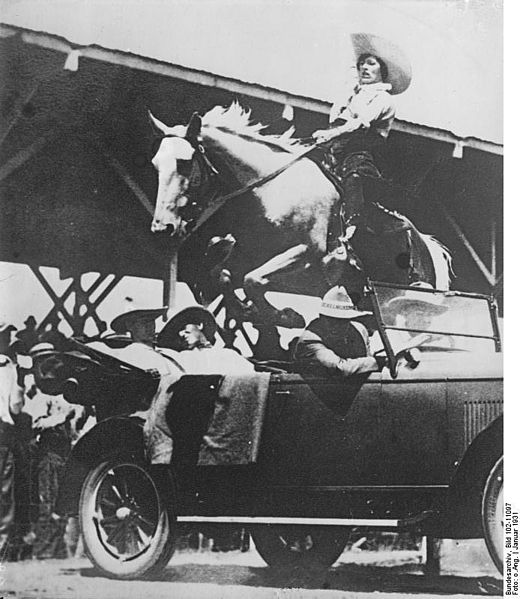 Unknown Cowgirl Jumping A Horse Over A Car
Attribution: Bundesarchiv, Bild 102-11097 / CC-BY-SA [CC-BY-SA-3.0-de (http://creativecommons.org/licenses/by-sa/3.0/de/deed.en)], via Wikimedia Commons
Not much is known about this photo. It was taken in 1931 and shows a cowgirl jumping a horse over a convertible car with four men inside. If you look closely, it's a bit amusing: The horse seems to be the only one with a calm expression.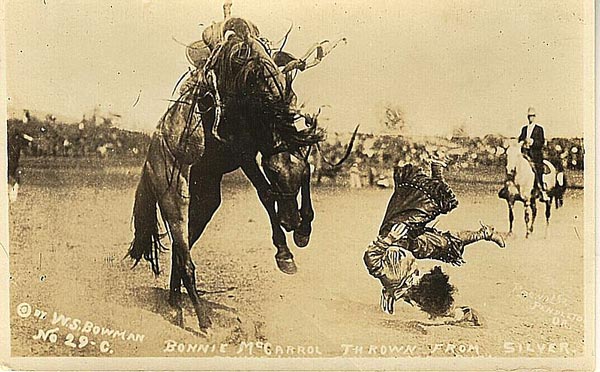 Cowgirl Bonnie McCarroll
Attribution: By Muffet [CC-BY-2.0 (http://creativecommons.org/licenses/by/2.0)], via Wikimedia Commons
This photo was taken at the 1915 Pendleton Round-Up (Pendleton, OR) and shows cowgirl Bonnie McCarroll being thrown from a bronc named Silver. The photo was taken by Walter S. Bowman. First held in 1910, the Pendleton Round-Up is still being held today.
Born in 1897, Bonnie McCarroll (birth name born Mary Ellen Treadwell) was born on a ranch near Boise, Idaho. She grew into a talented and popular competitor and performer who excelled at bronc riding and other events, including bulldogging. In 1915, her first year of competition, she became instantly famous when photographer Walter S. Bowman captured the above photo of her flying off of a bronc named Silver at the Pendleton Round-Up.
In 1915 Bonnie married Frank McCarroll, a champion steer wrestler, and by all accounts the two loved each other deeply. In 1922 Bonnie won the cowgirl bronc riding championship at Cheyenne Frontier Days, and also at the first-ever rodeo held in Madison Square Garden in New York City. During her career Bonnie remained a darling of the public eye and performed before kings, queens, and U.S. President Calvin Coolidge.
On September 19, 1929, however, tragedy struck. At her last performance before both she and Frank retired, Bonnie was fatally injured at the Pendleton Round-Up by a bronc named Black Cat. She was taken to a hospital and for 10 long days the world waited and watched for word of her condition until she died on September 29th. While there were other factors involved, the heartbreaking spectacle of Bonnie's terrible injuries in the arena, resultant death, and widespread media coverage heralded the end of women's bronc riding in most rodeos across the country.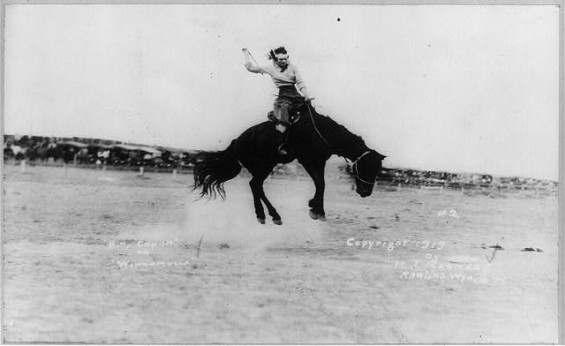 "Diamond Kitty Canutt," Cowgirl
Attribution: This image is in the public domain in the United States.
Written on the photo on the left side:
"Kitty Canutt on Winnemucca"
Written on the photo on the right side:
"Copyright 1919 by
H.J. Rogner
Rawlins, Wyo."
Kitty Canutt (born in 1894 as Katherine Derre in New York City) was a well known champion lady bronc rider. As a competitor she was first known by the name Kitty Wilks, after taking the name of her husband. She was divorced and later remarried in 1917 to Enos Edward Canutt, who himself was better known as "Yakima" Canutt, a legendary rodeo performer who became a legendary stuntman and stunt coordinator. They were later divorced in (or around) 1922. Among other titles Kitty was All-Around Champion Cowgirl at the 1916 Pendleton Round-Up in Pendleton, Oregon. She was frequently called "Diamond Kitty" because of a diamond set in her front tooth.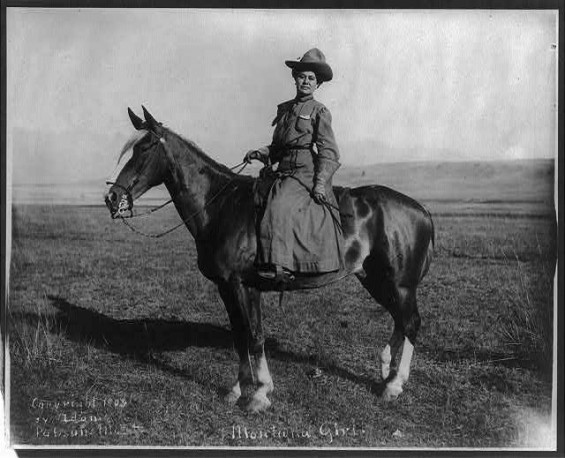 Unknown Cowgirl In Montana
Attribution: This image is in the public domain in the United States.
This 1909 photo is of an unknown cowgirl in Montana. Beneath the photo it simply says "Montana Girl." In the lower left corner of the photo there is additional information, possibly/probably the original copyright information, and perhaps the name of the photographer. It is too difficult to make out to know for sure.
---