Cutting Horse News
Cutting horse news stories gathered from across the Web. Please scroll down to see a brief article on cutting horses, and links to shopping for cutting horse items.
Cutting Horse Competition
Cutting horse competition is a judged event in which the highest score wins. The objective in cutting horse competition is for a horse and rider to enter a herd of cattle, separate a "cow" from the herd (in this case a "cow" can be a cow, steer, heifer, etc.) and demonstrate their ability to keep the cow from returning to the herd.
In cutting horse competition the rider cannot not noticeably assist or cue the horse once the cow has been separated or they will incur a penalty. Cutting horse competition is competed in by both men and women and evolved from the use of horses on a ranch to separate individuals from the herd.
Judging Cutting Horse Competitions
The lowest score a cutting horse can earn is a 60, and the highest score they can earn is an 80. At the start of the competition the cutting horse is assumed to be average and begins the competition with 70 points.
After the horse and its rider cross a timeline that starts the competition clock, the horse and rider will have 2 1/2 minutes to perform in front of the judge(s) who will add to, or subtract from, the starting score of 70.
During the judging process points can be added to a horse's score for reasons such as excellence in herd work (entering the herd quietly, concentrating on the job to be done, skillfully separating a cow, and more), and demonstrating superior intelligence and athletic ability in holding the cow separate from the herd.
Reasons to subtract points include the rider noticeably reining or otherwise cueing the horse once the cow has been separated, and being unable to hold the cow.
Turnback Men And Herd Holders
In cutting horse competition the competing horse and rider are assisted by four mounted helpers. Two of the additional helpers are called turnback riders, and the other two are herd holders.
It is the job of the turnback riders to keep the cow from running away from the cutting horse. It is the job of the herd holders to keep the herd of cattle quiet and standing together behind the cutting horse while it cuts.
Although it is the job of these additional four riders and their horses to assist the cutting horse, they themselves are not being judged.
Cutting Horse Photo
In the photo below the cutting horse has separated the cow and is working to keep it from returning to the herd. The cow cannot be seen in the photo, but is out of frame to the right.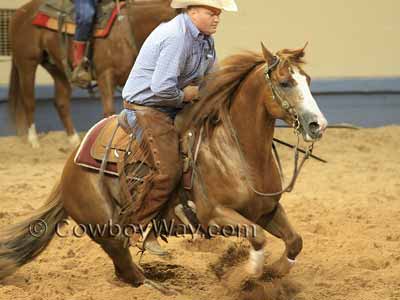 Rodeo and Cowboy News / Headlines